The WAGGGS Europe Committee was elected by delegates at the 2019 European Guide Conference, which took place in Croatia.
Eline Marie Grøholt
Chair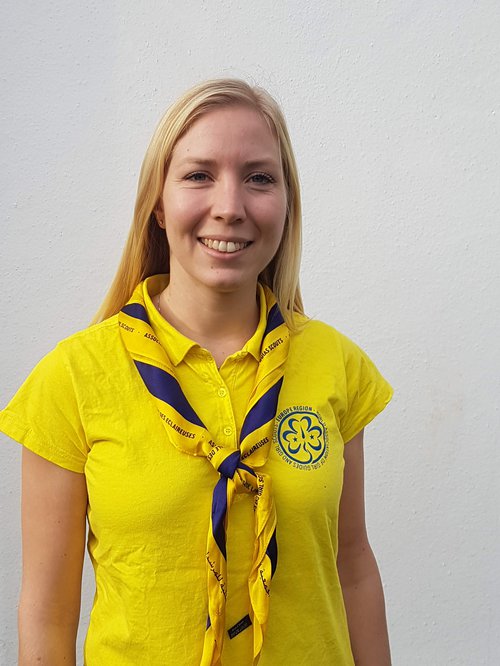 Eline is from Norway, and has been international commissioner and a volunteer for the region before being elected to Europe Committee last triennium. One of the best things about serving in the Europe Committee for her is the opportunity to work with so many inspiring women and men supporting WAGGGS' mission from different countries.
Working with the volunteers and supporting them through leadership development gives her lots of positive energy. She sees the region as a driver and facilitator of opportunities for MOs' exchange of ideas and learning from each other, and in supporting capacity development in the MOs. She believes we should continue to improve WAGGGS' delivery to the MOs, so we can demonstrate the value of belonging to a large international movement of girls and young women.
She wants to bring her perspectives and knowledge of the Europe region. Her role is to bring the Europe Committee together as a team so that they can deliver the best they can to the Member Organisations in order to advance our common goal.
Lilit Chilingaryan
Vice-Chair
'Lilit is an active member of the National Union of Girl Guides and Girl Scouts of Armenia. She has previously been a member of the training committee, the education committee and the National Board as International Commissioner. She was proud to lead her Member Organization to full membership in 2014.
At an international level, she has volunteered at Pax Lodge, been a member of External Relations and Communications Core Group of Europe Region and represented WAGGGS at the Advisory Council on Youth of the Council of Europe.
Lilit believes that Girl Guiding and Girl Scouting has transformed her own leadership practice. She is keen to be a positive change for other girls and young women and provide even more accessible and life-changing opportunities for all girls and young women.
Petra Stipanič
Committee Member
Petra believes every girl and women already has the power in herself to make changes to create a better world and be brave if she is given an opportunity. WAGGGS has enabled Petra to express those super power of leadership, commitment and courage in the movement and outside in her role as an HR Manager. She's keen to use her skills to bring out the best in members and create opportunities to participate meaningfully in society.
Apart from her activism in women empowerment, Petra is also an active football player.
Paula Neher
Committee Member
Paula has been involved in Guiding and Scouting since she was 6 years old. Before being elected to the Regional Committee in August 2019 she was the International Commissioner for both the German Association of Guides and Scouts (BdP) and the German Guide Federation (RDP). She also was lead volunteer for External Relations for the WAGGGS Europe Region in the last triennium.
Paula has been very passionate about bringing WAGGGS and international experiences to more young people since volunteering in the WAGGGS World Centre Pax Lodge in 2012. She hopes to bring her strategic thinking, enthusiasm, new ideas for transparency and communication as well as critical thinking to the Committee.
Agnes Kauer
Committee Member
Agnes has been a in Guiding and Scouting for all her life and is very passionate about it. As a member of the international team in Austria she gained a lot of experience in international Guiding and Scouting and with Free Being Me her involvement with WAGGGS grew stronger. In the last triennium she was part of the Gender and Diversity working group in the region and she is now very excited to support the movement as part of the Europe Committee.
In her professional life she is a data scientist and she plans on using her analytical skills in the committee. She is determined to do her best to support MOs, deliver exciting events in the region and celebrate the diversity of Europe Region.
Stephanie Darmanin
Committee Member
Stephanie joined the Malta Girl Guides as a young kid and have been a WAGGGS volunteer at regional and global level, mainly on advocacy and governance for over 10 years. Through its rich non-formal education programme, Guiding enabled me to develop leadership, critical thinking skills and understand the value of volunteering.
Being in the WAGGGS Europe Committee, she intends to put the voices of young girls and women at the top of the regional agenda. Her objective is to strengthen the existing partnerships WAGGGS has with other organisations and to foster new ones and to make WAGGGS more involved in the policy-making process in relevant areas at EU level. She believes that together we can be a strong driving force in Europe which works in the best interests of girls and young women.