WAGGGS is governed by a World Board made up of active Girl Guiding and Girl Scouting members from around the world.
The five Regional Chairs are elected by each Region at their Regional Conferences held every three years and other World Board Members are democratically elected at the World Conference by all Member Organisations.
The World Board appoints its own Committees, and ratifies the Regional Committees. It also allocates specific duties to Working Groups, Task Groups, ad hoc groups, and individuals.
The Chair and the Chief Executive are entitled to sit on any of the WAGGGS Committees and groups in an ex-officio capacity.
---
Meet our World Board
---
Heidi Jokinen (Finland)
Chair of the World Board, 2020 - present
Heidi is a member of the Guides and Scouts of Finland. She joined the World Board in 2016. She continues to be an active member in the Advocacy Team of the South West Finland Guide and Scout District. She has previously held the positions of Chief Commissioner and International Commissioner and served the National Board for eight years.
Heidi is currently on parental leave but has most recently acted as Post-Doctorial Researcher in Philosophy and Ethics; and as Church Minister.
"As a global organisation WAGGGS has excellent chances in enhancing its mission and vision for girls and young women. I find this exciting. Simultaneously WAGGGS makes a platform for its Member Organizations' diverse needs. This must be remembered when pursuing WAGGGS' mission globally."
---
Tashia Batstone (Canada)
Vice Chair of the World Board,
2020 – Present
Tashia has been a member of Girl Guides of Canada for most of her life and joined the World Board in 2017. She has held a number of roles across the organisation, and believes that many of her accomplishments are attributable to the skills she learned as a Girl Guide. Tashia is a Senior Vice President at Chartered Professional Accountants (CPA) Canada. As a Girl Guide volunteer, she has held a range of roles most recently as a Member of the Girls First Steering Committee with Girl Guides of Canada, and as a member of the WAGGGS Finance Committee.
"I firmly believe that all girls deserve the opportunity to develop the skills to enable them to become leaders both in their own communities and also on a global stage. As a Girl Guide leader I have had the privilege of seeing how WAGGGS has been instrumental in helping girls grow and develop into confident and resourceful women.
As a member of the WAGGGS Board I hope to share my extensive experience in financial management and governance to ensure WAGGGS continues to operate as a strong and vibrant organisation that supports the ongoing development and growth of girls and women around the world."
Jayne Wachira (Kenya)

Member of the World Board, 2017 – Present
Vice Chair of the World Board, 2017 - 2020
Jayne is a member of Kenya Girl Guides Association. She previously held the position of Deputy Chief Commissioner and a member of the National Board in various capacities. Between 2011 and 2017 she served as a member of the WAGGGS Finance Committee. From 2017 to 2020, she was Vice-Chair of the World Board.
Jayne is committed to growing the Movement through making increased opportunities available to every girl and young woman, providing support to WAGGGS and to Member Organisations in Governance and supporting increased collaboration throughout the movement towards enabling every girl and young woman to achieve their fullest potential.
"I am passionate about Girl Guiding and the movement of girls that we celebrate, support and mentor. Since joining Guiding 38 years ago I have had many positive experiences and opportunities to mentor as well as be mentored which have influenced the decisions I take in my life and shaped the person that I am. I will use my experience to continue to advance WAGGGS for the benefit of girls and young women."
---
Katerina Agorogianni (Greece)
Member of the World Board, 2017 - Present
Katerina is a member of the General Assembly of The Greek Guiding Association, and has previously held the positions of Vice Chair of the National Board and International Commissioner. She is a trainer since 2006 and a WAGGGS Leadership Development Programme facilitator.
Katerina has been the Lead Global Trainer for Free Being Me and the Lead Facilitator for Voices against Violence and is a firm believer in the transformational power of non-formal educational programmes. She has seen the positive impact of the Girl Guiding and Girl Scouting method on girls and boys around the world. Her aim is to support more young people to find their greatness and become the most amazing adults of the future!
Katerina currently works for a multinational telecommunications company as the Learning and Development Supervisor, responsible for empowering more than 4000 employees with the leadership skills that will influence their career growth and help them become admired leaders.
"Girl Guiding and Girl Scouting was created by advocates, by revolutionaries and my vision is to continue the effort to create a world equal for all, a world where everyone can be themselves."
---
Normala Baharudin (Malaysia)
Member of the World Board, 2017 – Present
Mala is the former Director of Education Malaysia Ho Chi Min City and now serves in Ministry of Education, Malaysia. She has been the Chief Commissioner of Girl Guides Association of Malaysia since 2013. She has previously been Vice Chair of the Asia-Pacific Region Committee, International Commissioner of Girl Guides Association of Malaysia and Chaired the Committee for Girl Guides Association of Malaysia's Centenary Celebrations in 2016.
Mala's passion for Girl Guiding and Girl Scouting was strengthened when she first attended a World Conference in 2002, where she gained a deeper insight into the power of our global Movement, as a platform for girls and young women to become responsible citizens of the world.
Ntombizine Madyibi (South Africa)
Member of the World Board, 2017 – Present
Zine has made volunteering part of her life. She has previously been Chief Commissioner of Girl Guides South Africa and a member of the Africa Region Committee and is presently a Trustee for Eyabantwana for the Children Trust. Professionally, Zine is Chief Executive Officer of Mayibuye Transport Corporation; a public transport provider carrying more than 2 million passengers every year.
Zine has previously made country assessment visits on behalf of WAGGGS for full membership of WAGGGS, and to assess progress on development areas.
---
Dr. Libya Ahmed Sbia (Libya)
Arab Region Committee Chair, 2019 - present
Member of the World Board, 2019 - present
Through Dr. Sbia's many years as a Member of the General Movement of Boy Scouts and Girl Guides of Libya coupled with her qualifications and professional training, she brings a wealth of knowledge and experience to help further develop the Arab Region.
Her priorities are to improve the quality of Guiding and Scouting in the Region through improving the quality of performance rates, connecting the Arab Region with the rest of the Movement and to encourage coordination of activities between associations to promote support and exchanges of experiences.
---
Bronwyn Hughes (Australia)
Asia-Pacific Region Committee Chair, 2020 - present
Member of the World Board, 2020 - present
For Bronwyn, whatever she has been able to achieve in life, is because of the things she learned as a guide. She thinks being part of the regional committee is the opportunity to give back to the organisation that has given her so much.
As the youngest member in the current committee, Bronwyn aspires to bring valuable youth perspective and develop youth leadership at all level of member organisations and region encouraging more women to take on more big leadership role.
Bronwyn is currently working at Australian Red Cross where she is responsible for the leadership of strategic initiatives regarding the effective mobilisation of a state volunteer workforce of 4500+ volunteers.
---
Larissa Esmiralda Byll Cataria (Benin)
Africa Region Committee Chair, 2019 - present
Member of the World Board, 2019 - present
A Communication expert with international experience gained while working across various geographies and among multicultural teams, Larissa is one of the co-founders of 3hi Africa, a consultancy firm. Larissa has a keen interest in the Sustainable Development Goals and the impacts of helping organisations realise their intended goals by changing NGOS environment. She is also passionate about photography and she believes that advancement in women leadership is a powerful resource and body for change in the world. And her daily desire is to affect lives positively by being a change-maker.
For the next three years as Chairperson of the Africa Region Committee, Larissa envisions to work closely with all the Committee Members as well as the Member Organisations, in order to give a better life to all our girls and young women in Africa. She would like to continue to foster a learning environment; while facilitating the development of personal and collective skills within our MOs and within our region in general. And of course, she is keen to take part in the development of Girl Guiding and Girl Scouting by increasing the visibility and the impact of our work and of course attract more members and partners for the region.
---
Cindy-Ann Patricia Alexander (Grenada)
Western Hemisphere Region Committee Chair,
2019 - present
Member of the World Board, 2019 - present
Cindy-Ann is from the Spice Isle of the Caribbean – Grenada. She has been an active member of her national Association – The Girl Guides Association of Grenada for just under thirty (30) years. She is the former Communications Commissioner, and during her tenure as such, she noted the need to reintroduce the Young Leaders programme, after many years of inactivity. As a result, she spearheaded the development of the new programme, which seeks to bridge Ranger Guides and adult Leaders, by providing young women with more options to assist with their personal growth and development within the Movement.
As a member of the Western Hemisphere Region Committee since 2016, and now Chair, Cindy-Ann is extremely eager and enthusiastic to continue working with Member Organizations to support the growth of Girl Guides and Girl Scouts across a myriad of diverse communities in the region. She wants to highlight that as much as we are all different, with distinctive languages, cultures and backgrounds, we are one, united as a Movement. This is the basis for the holistic development for girls and young women thereby enabling and empowering them to become more effective and efficient leaders for not just their communities and countries, but for the world as a whole.
Cindy-Ann holds a MSc in Computer Science and a BSc in Computer Science and Meteorology, which compliments her love of nature and the outdoors. She has a deep love and respect for technology and is a big advocate for girls in STEM. By day, Cindy-Ann is an Educational Technology Specialist at St. George's University, where she supports professors to use technology for enhanced teaching and learning experiences which are both enriching and engaging.
She is a dog-lover, who has a thirst for knowledge, which is fostered by her being an avid reader of all genres.
---
Eline Marie Grøholt (Norway)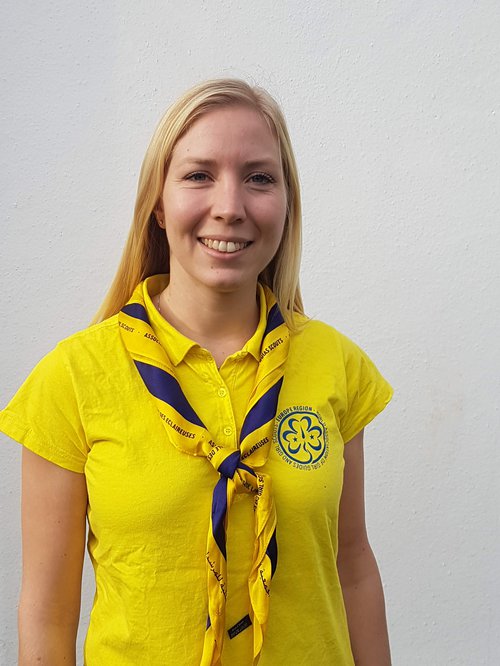 Europe Regional Committee Chair, 2019 - present
Member of the World Board, 2019 - present
Eline is from Norway, and has been international commissioner and a volunteer for the region before being elected to Europe Committee last triennium. One of the best things about serving in the Europe Committee for her is the opportunity to work with so many inspiring women and men supporting WAGGGS' mission from different countries.
Working with the volunteers and supporting them through leadership development gives her lots of positive energy. She sees the region as a driver and facilitator of opportunities for MOs' exchange of ideas and learning from each other, and in supporting capacity development in the MOs. She believes we should continue to improve WAGGGS' delivery to the MOs, so we can demonstrate the value of belonging to a large international movement of girls and young women.
She wants to bring her perspectives and knowledge of the Europe region. Her role is to bring the Europe Committee together as a team so that they can deliver the best they can to the Member Organisations in order to advance our common goal.
---
Approved persons
The approved persons would take over should a member of the World Board be unable to complete their term for any reason.
Jillian van Turnhout
2017 - 2020
Jillian is a member of Irish Girl Guides. Jillian has represented Guiding at European level, she is a former Chief Commissioner and headed up the team who re-imagined and developed a new Programme for girls and young leaders. Jillian currently demonstrates her commitment as a Director of the Trust of the Irish Girl Guides and by her continued active involvement at national and local level.
Jillian is a former Irish Senator and a leading children's rights advocate. Jillian completed the INSEAD International Directors Programme and has a Certificate in Corporate Governance. She is currently serving as Vice Chair of European Movement Ireland and Chair of Early Childhood Ireland. She is a former Chief Executive of the Children's Rights Alliance and former President of the National Youth Council of Ireland.
Jillian was a member and Vice President of the European Economic and Social Committee. Jillian is a co-founder of the European Youth Forum. Jillian is a Chevalier de l'Ordre National du Mérite.
"Guiding has given me life skills and instilled a value system that keeps me striving for a better, fairer and more inclusive society. As a global movement, I strongly believe we must equip girls and young women, across the world, to achieve their full potential."
---
Catherine Irwin
2017 - 2020
Catherine Irwin has been a lifetime member of Girlguiding UK and is currently a Guide and Ranger leader, and a member of National Council. Within her organisation, she has held several senior leadership roles, including being a Commissioner and Regional Trustee.
With a background in Electrical/Electronic Engineering and Business Administration in her professional life, she now holds a global strategic leadership role in a large multi-national manufacturing company with facilities in every region of the world.
Catherine was a member of the WAGGGS Strategy & Planning Committee in the last triennium and utilised her professional skills and collaborative approach in the development of the 2018-2020 strategy.
"Guiding has provided me with many unique experiences that have moulded me into who I am: I have been a team player, leader, follower, learnt new skills and gained the confidence to speak out, all of which have been essential in my chosen career. Having personally gained so much, I am passionately dedicated to supporting girls and young women to reach their full potential as responsible world citizens"