Every year, World Thinking Day has a different theme that Girl Guides and Girl Scouts around the world can learn about and take action on.
Challenge Badge 2020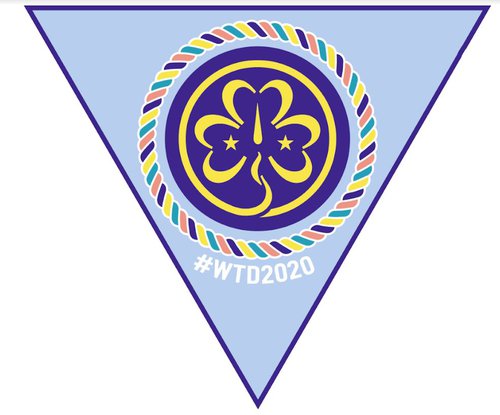 As a global Movement with 10 million Girl Guides and Girl Scouts in 150 countries - all with diverse backgrounds and experiences, World Thinking Day 2020 celebrates this diversity in our Movement.
Using threads to represent the concepts of diversity, equity and inclusion the pack this year, Living Threads is designed to inspire you to reflect on how you can put equity and inclusion into practice, and celebrate the diversity in your communities and beyond. So let's play Living Threads!
Earn your World Thinking Day 2020 badge with these easy steps:
Step 1. Start with "Get ready to play Living Threads" set-up activity.
Step 2. Complete 1 activity from each of the 3 themes (Diversity, Equity and Inclusion).
Step 3. #InOurHands - Reflect on what you've learnt, support WAGGGS and make a diversity bracelet with the threads you gained through playing the game
Start your adventure - download the activity pack in:
Thank you to our Member Organisations for translating the Pack into:
Penpal and postcard exchange
Exchanging postcards of friendship is a long-standing tradition for Girl Guides and Girl Scouts around the world. Members looking to set up connections with Member Organisations in other countries should use the verified contact pages for the International Commissioner office on the Our World section of the website.
WAGGGS Volunteers can also create international connections using Mobilize, our official volunteer portal – all members have been verified and approved as Guiding and Scouting members by their local International Commissioner.
World Thinking Day 2019 – 2021
The World Thinking Day 2019 celebrations started a journey through a set of 3 themes.
2019: Leadership
World Thinking Day 2019 was dedicated to the group of girls who took the lead in 1909 and demanded Lord Baden-Powell create 'something for the girls'.
The 2019 World Thinking Day game created opportunities for the players to practise their leadership skills by exploring the WAGGGS leadership model. For WAGGGS, leadership is a shared journey which empowers us to work together and bring positive change to our lives, the lives of others and wider society.
2020: Diversity, Equity and Inclusion
Girl Guiding and Girl Scouting values and respects each person for who they are, irrespective of their race, nationality, ethnicity, religion, age, ability, appearance, gender, identity or experience. This World Thinking Day, and every day, we recognise the importance of working to build a world where this is true for everyone, everywhere.
World Thinking Day 2020 builds on the 2019 Leadership theme and helps us explore worldly leadership - seeing the world from the perspective of others, fostering inclusion and equity and celebrating the immense diversity in our Movement.
2021: Peacebuilding
Use the knowledge and experiences you've gained in World Thinking Day 2019 and 2020 activities to take action and change your world. Choose to build peace: be a leader and create environments that include everyone.