Celebrated since 1926, World Thinking Day is a day of international friendship. It is an opportunity to speak out on issues that affect young women and fundraise for 10 million Girl Guides and Girl Scouts in 150 countries.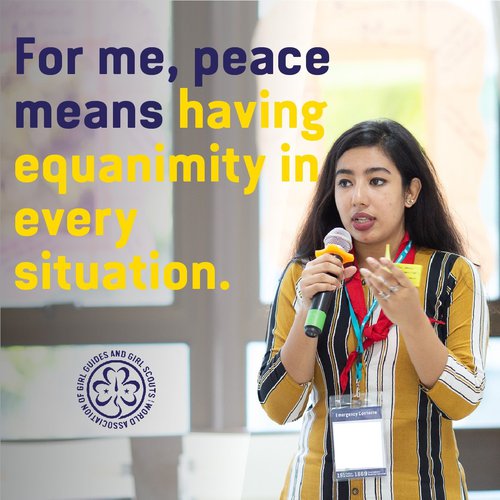 #WTD2021
The theme for World Thinking Day 2021 is peacebuilding.
Peacebuilding is at the heart of Girl Guiding and Girl Scouting and is as vital and relevant today as for the last 100 years. By completing the steps in the Stand Together For Peace activity pack, Girl Guides and Girl Scouts will; Stand Strong, Stand up and Stand Together for peacebuilding.
We want you to be part of this!
More information coming soon.
Donate to the World Thinking Day Fund
A tradition since 1932, the World Thinking Day Fund collects pennies and coins from members around the world, to support their fellow Guides and Scouts. All donations help fund WAGGGS activities and are used where the need is greatest in our global Movement.
* Please avoid sending cash donations by mail.
What do we do on World Thinking Day?
Celebrate World Thinking Day and be one in ten million!

Be inspired by the history and impact of our global Movement

Connect with the worldwide sisterhood of Girl Guiding and Girl Scouting

Take action and speak out on issues we most care about

Make a difference by fundraising for projects around the world