WAGGGS believes that prevention is the most effective way to end violence against girls. Education on the root causes of violence is the best prevention tool we have, so in partnership with UN Women WAGGGS has created Voices against Violence curriculum.
Voices against Violence is an international, non-formal co-educational curriculum which engages girls, young women, boys, young men, adults, parents and the community in conversations about violence. The initiative is unique in that it addresses the root causes of violence against girls and sets the groundwork for real social change.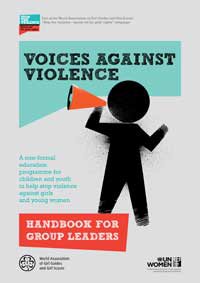 By 2020, the curriculum will have helped five million children and young people learn how to talk about violence, understand its root causes, identify different forms of violence, recognize their rights and develop the skills and confidence to access those rights for themselves and others. It will have empowered girls and boys, young women and young men to be leaders, to speak out and take action.

Voices against Violence provides interactive, child- and youth-centred ways for young people to talk about relationships, gender equality and abuse, within a safe and supportive environment. The curriculum is being delivered through the World Association's national Member Organizations and in the future it will also be delivered through partners and governments. Due to the sensitive nature of the topic only the Leader's Handbook is available freely online.
The learning objectives of the programme are as follows:
START
To develop a safe and supportive space for children and young people to talk about gender inequality and violence against girls and young women.
THINK
To think about gender equality and what it means to be 'me'. To understand gender roles, norms and expectations and start to promote equality.
IDENTITY
To identify and understand different forms of violence against girls and recognize the warning signs of violence.
SUPPORT
To support respectful relationships. To develop skills to form their own relationships and support their friends.
SPEAK OUT
To speak out for girls' rights and raise awareness of women and girls' human rights.
TAKE ACTION
To stop the violence. To develop and run a campaign event or activity within the local community to raise awareness about stopping violence against girls and young women.