Back to News
---
Menstrual Hygiene Day (MH Day) on 28 May 2021 saw an incredible moment of celebration as Girl Guides and Girl Scouts from around the world used their creativity, voices, and actions to advocate for better menstrual hygiene for ALL women and girls. As well as celebrating MH day itself, the Movement came together for a week of action and activities to celebrate their period pride; under the banner of Red Pride Week 2021.
Across our Africa Region, young women from our 'Youth Exchange South to South (YESS) Girls' programme carried the message into schools, radio stations and TV studios that "we need to step up action and invest in menstrual health and hygiene now!". They also delivered activities from our 'Rosie's World' Menstrual Hygiene Management (MHM) curriculum in all of our 13 'YESS Girls' programme countries, together reaching tens of thousands of girls and young women.
In particular, the Ghana Girl Guides Association (GGGA) launched their #DontTaxMyPeriod social media and letter writing campaign, appealing to the government to fulfil its promise of making sanitary pads tax-free for young women and girls in Ghana. To complement this with positive and tangible action themselves, GGGA opened a dedicated MHM office creating a safe space for training girls and young women on this issue. They also reached an additional 1000 girls from deprived areas with menstrual pads and menstrual hygiene education, and in total, supported over 10,000 girls and young women to celebrate their period pride, through in-person meetings, 'Rosie's World' trainings, radio shows and social media.
In Kenya, the Kenya Girl Guides Association (KGGA) held Red Pride Week celebrations across 11 counties, where they campaigned against period poverty, distributed sanitary pads and trained thousands of girls through 'Rosie's World'. On MH Day itself, they held radio and TV Interviews to advocate for better access to sanitary towels, and the need for more open conversations on this very taboo topic. Through their efforts, they reached two clans from Kisumu and Narok counties where girls are regularly forced to isolate themselves when they are menstruating. They now plan to return to these clans and educate the girls through 'Rosie's World'.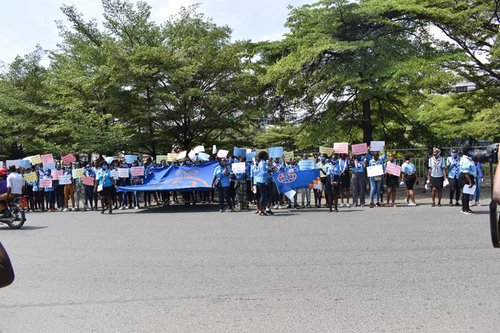 Elsewhere in the region, the Girl Guides of Burundi focused their Red Pride Week action by organising a huge march of girls and young women through the centre of Bujumbura. The Girl Guides of Tanzania also commemorated Red Pride Week, educating hundreds of girls and young women through 'Rosie's World' as well as delivering a MHM training to 15 women from Kigongoni prison.
Showcasing their amazing dance skills, the girls and young women of Fanilon'i Madagasikara celebrated their period pride by making an #jerusalemdancechallenge video while holding up reusable sanitary pads and clean underwear. In Uganda and Malawi, the focus was on the environment this year, as the Uganda Girl Guides Association trained young women on how to make reusable sanitary pads and the Malawi Girls Guides Association ran trainings on how to use menstrual cups.
In Nepal, an online MH Day panel discussion on "experience sharing" attracted 80 participants, and in India, the Bharat Scouts and Guides hosted a three-day #MHDay2021 online celebration event with many special guests and access available to all its members. They also developed a U-Report youth consultation quiz, available in 11 languages, where young people could test their knowledge around menstruation. Close to 5000 young people took part. Also working digitally, Persatuan Pandu Puteri Malaysia (Girl Guides Association Malaysia) hosted an MH Day webinar where a completely girl-led panel presented on menstruation myths, good hygiene practice and the biology of menstruation.
As well as all the incredible actions that took place across our Africa and Asia Pacific regions, individual Girl Guides and Girl Scouts across the whole Movement made menstruation bracelets in celebration of their periods. The menstruation bracelet is the global symbol for menstruation, and stands for our joint commitment to create a world where no woman or girl is kept from realising her full potential because she menstruates.
Bring on Red Pride Week, and MH Day 2022!