Back to News
As we launch in YWAF 2020, we look at just a few of the amazing advocacy campaigns YWAF delegates have been leading on.
If you're thinking about applying for our digital Young Women's Advocacy Forum, these young women can tell you more about being part of the delegation has influenced national advocacy and gender equality campaigns in their home countries.
---
The Real People Project
Victoria's project looks at the harmful impact of 'healthy' foods and supplements. Her digital campaign @therealpeopleproject shares stories of mindfulness, self-esteem and body positivity from all over the world. Victoria attended the UN General Assembly with YWAF in 2018. She tells us that 'The real people project was a social media movement set up by two of us in our frustration to boost body confidence and self-esteem on Instagram. The campaign uses real stories of people to disrupt social media norms and promote self-love and confidence'. One of her many activities includes sharing a daily reflection journal on 3 things that have boosted her self-love and she is grateful for every day.
Palabras que suman mas
Agustina's project focuses on the use of language and its impact on our self-esteem. They are working with schools to look at how this is implemented in educational spheres. Their social media campaign page @palabrasquesumanmas hosts impressive series of issues relating to the intersectionality of body image, including health, diversity and discrimination, and how language impacts these issues. Agus tells us that
'My advocacy project is about making people understand how positive and negative communication can affect people's lives and impact their body confidence… I know now that I am so passionate about the issues so that when I speak I know that people will listen because I want them to listen. I feel that people now care about my message because the community is able to identify with it too'
Agus, YWAF at UN General Assembly 2018
Tackling colourism and self-esteem
Shauna and Lucia are working on a cross-regional project called Brown and Beautiful @brownbeautifulx to tackle issues of colourism that are harmful to body confidence and self-esteem. Their advocacy campaign advocates against a number of problems facing their communities and women of colour all over the world including skin lightening and body politics related to colourism. Shauna tells us that her project 'targets the body myth that Grenadian girls are meant to look like 'typical' Caribbean island girls, that being very curvy but very slim at the same time with big long curly natural hair and lighter skin'
Lucia tells us 'YWAF has shown me that even if I am a young women I can bring change in my community and talk about body confidence issues in my community to change the perception of body image stereotypes'
Among the many activities, Shauna has been delivering workshops in schools and met with the Minister of Education in Grenada to address and tackle the issue of colourism and body confidence. Lucia has also been communicating with the Coordinator of Education in her province and carried out a key research survey to address colourism in her community. They continue to build their #Brown&Beautiful advocacy campaign online.
Rebooting thoughts on menstrual hygiene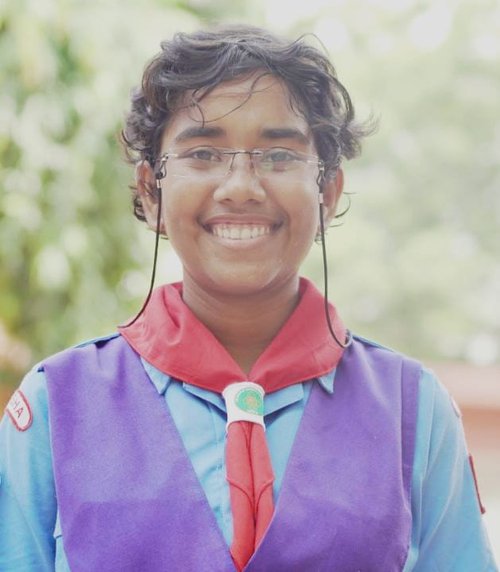 Sonakhi attended YWAF at Women Deliver in 2019 and her project focuses on tackling the impacts of menstrual taboos on body confidence and self-esteem. Sonakhi's advocacy project has ensured national activities all over her country and has brought awareness to the importance of 'happy periods'. Sonakhi tells us that 'Reboot of thoughts on menstruation is a wave of change project I started on 15th July 2018 to spread awareness about menstrual education and to break the silence on periods. For years, we have been caged in taboos related to menstruation. It is time for us to break out of this cage and feel free! Often we spend time worrying about what our bodies look like, without appreciating all of the wonderful things our bodies allow us to do.'
Sonakhi has also led on digital campaigning through social media @happy._.periods.
---
The Young Women's Advocacy Forum is an initiative, which allows WAGGGS to support a network of young women who have participated in a WAGGGS programmes to focus on advocacy. Free Being Me has been delivering specialised Action on Body Confidence training for young women to launch their ABC national advocacy and gender equality campaigns since 2018. The Young Women's Advocacy Forum first took place in the UN General Assembly in September 2018 and then at Women Deliver Conference in June 2019.
YWAF 2020 – How to apply
Applications for this year's Young Women's Advocacy Forum are now open!!
The YWAF training will empower young women to build a digital advocacy action plan and provide young women with opportunities to lobby global decision makers at the virtual UN General Assembly 2020.
The application deadline is 13 July!
Please visit https://www.wagggs.org/en/news/join-the-young-womens-advocacy-forum-2020/ for more information on how to apply!