The WAGGGS Asia Pacific Committee was elected by delegates at the 2019 Asia Pacific Regional Conference, which was hosted by Girl Guides Association of Thailand and took place online.
---
Chempaka Emalin Pahamin
Chair
Chempaka began her life in Girl Guiding as a Brownie with the Girl Scouts of USA. Almost 40 years on, she aims to use the skills and experience that she has accumulated over the years, to support the development of Girl Guiding in the Asia Pacific region.
Chempaka has a wide scope of experience and wears many hats in Guiding. She is a leader of units ranging from Rainbows to young leaders from the ages of 5 to 20 and is currently a trainer of the National trainer's council. Chempaka's former roles include member of the National Executive Board, ex-officio member of the National Trainers Council, member of the Girl Guides Association Malaysia's Constitutions and Elections Committee, member of the International Affairs Committee, Vice Chairman (3 years) and Chairman (3 years) of the Friends of Asia Pacific working group at WAGGGS.
Chempaka's vast experience in combination with her speciality in governance and structure, program and training has provided her with a great awareness of the needs and challenges of Member Organisations. Thus providing her with knowledge and understanding that will support the development of the Asia Pacific Region's membership and wider needs.
---
Prarthana Liyanage
Vice Chair

Prarthana has been a member of the Girl Guides and Girl Scouts Movement since she was eight. Her journey through the Movement started when she became a Little Friend and has carried her through different roles including; a Girl Guide, a Ranger, the Youth Director, a Girl Guide Leader, and a Commissioner at the Sri Lanka Girl Guides Association (SLGGA), a Member of the Asia Pacific (AP) Regional Committee and now Vice-Chair of the AP Regional Committee. These roles have not only given Prarthana a better understanding of the AP region but equipped her with the skills and knowledge that will allow her to support the region and strengthen Member Organisations (MOs), as they face challenges and adapt to new ways of working.
In this role, Prarthana aims to continue the growth and expansion of the AP Regional Fund Development Network and assist AP MOs in building a platform to help all share ideas, challenges as well as resources and expertise. She also hopes to improve Asia Pacific MO's involvement in Girl Guiding and Girl Scouting by providing necessary support in capacity building and bridging the digital divide.
---
Mahnaz Hossain Fariba
Committee Member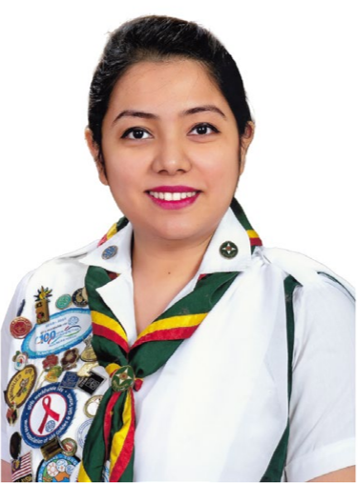 Mahnaz has been a member of Girl Guiding for over 21 years. She fondly remembers that the development of her leadership mindset began when she attended the International Brownie Festival when in 2000, when she was eight years old. Since then, she has developed this mindset through experiences like attending the 11th AP-ReCo in Tokyo as a young leader and her international experience at Oxford University during her MS. During this time, Mahnaz has also refined her advocacy, research, communication, and implementation skills.
Mahnaz is extremely passionate about diversity and Inclusion and advocating for gender equality in the workplace, to ensure career progression is more common among women. As a committee member Mahnaz aims to strengthen Member Organisations by ensuring they have quality training programmes, connect with other donor organizations, and increase funds for the region for the next triennium. She plans to work towards ensuring that they are more partnerships amongst Member Organisations and to make sure their opinions are heard so that Guiding becomes a rewarding and inclusive experience for every volunteer involved.
---
Firasha Mohamed
Committee Member
Firasha is a law graduate and the Head of Media at SOSAL a subsidiary in-house media outlet of Maldives Consultancy Group. Her current roles in Guiding include branch Commissioner for Littlemaids (girls aged 7-11yrs in the Maldives), Communications Lead of the regional volunteer's pool, member of the Member Organisations Executive Committee and she is a recipient of the prestigious President's Guide Award, the highest honour a Girl Guide can attain in the Maldives. As a member of the training team of the Maldives Girl Guides Association for the past five years, she has also contributed to training girls and adult members across the country.
Firasha plans to use her skills to support the growth and development of the Asia Pacific region. She identifies working directly with girls and young women and increasing their participation and perspective in areas such as girls' rights, environmental issues, formal and non-formal education, leadership and advocacy programmes as critical to the development of the region.
---
Maiya Twayanabasu
Committee Member
Maiya has been a member of Guiding since she was nine. As a former Committee member (2019-2022) leading in communications, she plans to develop the impact of this area within the region. Through capturing informative, educational, inspirational, and original stories from Member Organisations, Maiya hopes to increase the visibility and accessibility of the region during this term. Moreover, she aims to address the priorities of Member Organisations within the region, develop the skills required to manage the changing and challenging needs of girls and establish intergenerational harmony by ensuring balanced representation of diverse generations in planning, implementation and governance.
Maiya has found getting the know the WAGGGS programmes and its initiatives rewarding and hopes to continue to learn and contribute towards Guiding in this role. She envisions the Asia Pacific Region as being more thriving, inclusive, growing and girl-led, and is dedicated to supporting this.
---
Chris S. Y. Wong
Committee Member
As a Committee member, Chris is keen to identify synergy among Member Organisations (MOs) and ensure that resources are available for them to strengthen this. She also hopes to inspire and equip potential MOs with the courage to take on challenges in governance roles. Having been involved in the Guiding Movement for a significant portion of her life, she aims to use her first-hand experience to support Member Organisations in decision-making.
Chris recognizes a decline in membership due to the COVID-19 pandemic, as an area which needs to be addressed in order to help Member Organisation and the Movement recover. She identifies operation resumption and reconnection as the focus of work needed within the next triennium. To achieve this she believes, the visibility and technology capacity of MOs should be enhanced to reach out to potential MOs. This goal can be enhanced through quality Guiding and Scouting programmes.