The YESS Girls' Movement has a thriving alumni community of 211 young women from 15 countries across the Africa and Asia Pacific Regions of WAGGGS.
About the YESS Alumnae
These are young women who had the opportunity to go on an international exchange for six months and were given a platform to exercise their leadership potential. Once home they continue to engage with both their 'home' Association and their former 'host' Association in a variety of brilliant ways. For many, their 'home' Associations are the cradle of their Girl Guiding and Girl Scouting journeys and their participation in the YESS Girls' Movement was the beginning of their leadership journey. They were empowered as agents of change not only at a local level, in their communities, but also at a national and international level.
In this section we bring you experiences of our YESS Girls Alumnae, where they will tell you their stories in their own words.
---
Always wanted to represent my country at an International level
I'm Puranjani Duwal, a Ranger Scout from Nepal Scouts and also a YESS Alumnae. I started my Scouting/Guiding journey when I was studying in Grade 3 in 2009. Scouting is something that plays a vital role in my life. I chose to be a scout because my parents are scout leaders and were scouts since their childhood. I heard many interesting stories about scouting which made me get enrolled in scouting movement.
As I grew up I always wanted to represent my country at an International level. My leaders and parents encouraged me to apply for the YESS Girls' Movement. At that time, I was nervous and excited at the same time throughout the process of selection from District Headquarter to National Headquarter. With time I got confident about my journey in The YESS Girls' Movement.
I was nervous but excited when I left my country for Uganda in 2020. Uganda Girl Guides Association (UGGA) was going to host me for six months. The time I was leaving home for the airport made me realize that I was going to be alone in an unknown place and this was the first time I was traveling very far from home. The excitement of traveling by air for the very first time in my entire life was another level of excitement. With a new day and new chapter in Uganda we started working with UGGA.
When COVID-19 hit the world it was serious, everyone were forced to stay home. All the plans we had were stopped. Slowly the world became digitalized so did we. It was a good thing for me and it helped me to take my classes online as I was still doing my Bachelors and had to take six month leave for this exchange. The journey of six months became the journey of nine months due to the pandemic. One thing that makes me proud is the pledge song which we sang during exchange as an assignment and it is now the official pledge song of The YESS Girls' Movement.
After coming back to Nepal from the exchange, we had some break due to lockdown. The National Headquarters of Nepal Scouts appointed me as the team leader of Communication. Along with my team and other members we continuously organized and attended different programs of Nepal Scouts. The experiences that I achieved during my exchange is paying off in my daily and professional life. The YESS Girls' Movement has been a very important change factor of my life. I am volunteering as a Ranger in 2 scout troops of my district, Bhaktapur where I take sessions with my mother as she is a Scout Master. Currently, I am working as a Program and Database Associate in one of the renowned organizations where we produce radio and television programs related to social issues and send them to more than 200+ radio and televisions all over Nepal.
---
Going for exchange is the most wonderful decision I've ever made
My name is Mukuni Georgina Kapapa, a 21 year old young leader of Girl Guides Association of Zambia and a YESS Alumnae having gone for my exchange to Uganda in 2019. "Her World" isn't just a metaphor it is real. This is a place where young girls and young women explore their fullest potentials.
My journey as a YESS participant has been the most wonderful decision I've ever made. It helped me to become true to myself, develop my skills as an advocate and young leader, give me the ability to travel to places I didn't think I would, but most of all it has opened doors for me and polished my Voice to help uplift other young women.
My journey so far has been blessed as I am a facilitator of MHM and ABC, I hold a position in the young Women's network as vice chairperson and our fight is to end early child marriages in Zambia.
I also started a Foundation Called Kuni Thompson Foundation named after my Late Grandpa which helps young ladies in my community to have access to Education, SRHR, and to be free from early child marriages.
My journey has just begun as I cannot count the many things I have achieved with the knowledge from Girl Guides and my exchange. My gratitude goes to my Home Association that made it happen for me and to my Host association Uganda Girl Guides Association. Words can not fully describe how grateful I am to the team for helping me grow as an Individual and explore my skills and talents. The hard work I am doing right now is all thanks to the Yess Family both GGAZ and UGGA.
---
The YESS Girls' Movement helped me discover my passion
My name is Flavella Ingabire and I am from Burundi.
As soon as I joined Burundi Girl Guides Association, I heard about the YESS Girls' Movement and I was excited to be part of it.
I had to pass two tests to get there and fortunately, in 2020, I succeeded. Through THE exchange I had the chance to go to Kenya and worked with Kenya Girl Guides Association.
It was at the very beginning of the COVI-19 crisis and in the 6 months that the program lasts, we were only able to work on the ground for two only months. Despite this challenge we succeeded because our targets were achieved -thanks to the permanent support of the WAGGGS YESS Cordination Team.
Despite the lockdown and the remote work, I was able to build new relationships, to learn new things including animation skills, designs, the right use of social media, etc. and acquired various skills including the behaviour to adopt in the workplace, inclusive cohabitation,… which allowed me to be hired as a facilitator in a French NGO on my return to my home country, Burundi.
The programme also allowed me to discover my passion of humanitarian intervention. As Madam Robina always said, "Even the sky is not the limit if you work hard".
Today, with my engineering degree, I didn't give up my passion. I'm currently studying for a Bachelor's degree in Management.
I love supporting the YESS Girls' Movement because it changed my life
I am DINA Mandroso Niaina, a YESS alumnae from Mpanazava Eto Madagasikara, hosted by Kenya Girl Guides Association in 2020.
Being a part of the YESS Girls' Movement is one of the best things that have happened in my life. My participation in the exchange made me feel more confident and also helped me to be more independent. In addition, it allowed me to increase my knowledge, communicate better, interact with others, take responsibility , manage time and prioritize my work better.
I also made a lot of friends from many different countries during the exchange.
After the exchange I continued to support the program. In 2021, I was still involved in the movement as part of the National Task Force as the Achievers' (Membership) Team Leader and this year I am the Alumnae Team Leader. In 2021, I was elected and trained as an advocacy champion of PTTC and also mentored girls to become advocacy champion like me.
For now, I'm still in the process of doing research to complete my studies to get my degree but that does not stop me for participating in community and school mobilization, awareness, sensitization, etc., because it has really become completely instilled in me.
I was inspired to do entrepreneurship during my exchange
I am Makayi Patience Khaitsa, a 23-year-old Girl Guide from Uganda. I am a young leader representative for Wakiso district and I run a Community-Guiding Unit with young girls in my community. Currently I am serving on the YESS non-travel exchange as the COVID Crushers' Team head.
After high school, I was privileged with the opportunity of participating in the YESS Girl's travel exchange where I spent 6 months in Zambia sharing a house and working together with three girls from Madagascar, Kenya and Rwanda.
This exchange experience changed my life in many ways that am honoured to share. To begin with, I got a chance to make international friends, get a working experience before even joining the university and share knowledge based on my experiences and specially tailored toolkits by WAGGGS with many girls of different origins. On return home, I used what I had learnt to teach girls within my reach and become actively involved in guiding work in my home association. I am also able to teach in other fields such as in Sunday school.
In my social life, the girls I stayed with had entrepreneur minds. This was seen through the way they spent their allowances. While I spent mine on buying chicken and ice cream, I was saving up to buy the latest iPhone at the time but these girl challenged me in that one of them spent most of her savings on applying for scholarships and the other bought some simple bakery equipment. Towards the end of the exchange, I knew that I had to return home with something to show that I had grown during this exchange and it was then that I bought a small hand mixer and a baking tray. Little did I know that this would be the start of a business.
When I returned home, I decided to put my bakery skills to use and this has been the source of most of my campus up keep. I am a third year student pursuing Bachelors in Food Science and Technology.
After the outbreak of covid-19, we had various lockdowns, school had come to a standstill, many people were faced with mental health issues such as depression and anxiety and most of my peers spent their time sleeping and being idle. However, I was actively engaged in YESS activities that gave me a reason to remain in stable mental health instead of getting over whelmed by the situation. Guiding is fun, accommodative and provides a platform for every girl to express herself without fear or judgement.
I challenge myself to take part in giving back to my community
I am Ummy Mwabondo, from Tanzania Girl Guides Association. I am a young leader and a 2017 YESS Alumnae who volunteered with the Girl Guides Association of Zambia. Am forever grateful to be one of the girls who took part in this journey of a lifetime.
My life after the exchange has been amazing so far. Many opportunities came crawling to me. I am happy to still be part of the YESS bus; not only as alumnae but also as the YESS advisor especially in advocacy issues, playing as a peer, being an interpreter at times and mostly being the 2018 YESS Girls Swahili teacher.
The skills and knowledge from the exchange played a great role in all the activities I took and still taking part in my life, both in guiding and in my career.
In 2019, through the Nutrition program Initiated by WAGGGS and Funded by Nutrition International (NI), I volunteered as the Nutrition Advocacy champion and represented WAGGGS globally at the WOMEN DELIVER CONFERENCE in Vancouver, Canada where I advocated for proper nutrition for girls and young women in my community. I participated in a number of activities including organizing events and being one of the panelists.
My communications skills keep improving. I am currently working at a certain Telecommunication company as a translator for dubbed series. Meeting and engaging with girls from different countries made me understand the culture, emotions, and diversity of the world. This is so helpful in my career thus I can relate and it's fun.
I am able to lead and guide myself and others in doing activities, meeting targets, and accomplishing tasks. I feel good taking part in community activities despite that for some reason I don't engage myself fully because of my other commitments, especially my job. One thing I know is that I am in the position to do so and I challenge myself to take part in giving back to my community.
I thank and encourage the Tanzania Girl Guides Association and World Association of Girl Guides and Girl Scouts to reach out to more girls and young women since so many lives are changed and it's the platform for girls to do better and do more.
By the time I got back home to Zimbabwe, I had changed both in mind and purpose
My name is Precious Tikambenji, a Girl Guide from Zimbabwe. I started my Guiding journey in 2009. I was a YESS participant in 2019 and I was hosted by Uganda Girl Guides Association.
I am always overcome with acute nostalgia for my days in Uganda. It takes me back to how I could not go a day without eating an egg "rolex" with orange juice. Throughout the exchange, it was a time I had to learn a lot more about life away from my parents as I had just finished High School. I remember how my personal experiences as a young, obese girl in a society where body shaming is a norm pushed me to want to make a difference in every girl's life. I remember vividly how I thought as an 18-year-old there is nothing much I could do but the YESS Girls' Movement gave me that platform where I could reach out many girls with different programmes and it also allowed me to learn more about myself and my role in the world. By the time I got back to Zimbabwe, I had changed both in mind and purpose, I knew that I had to be the change I wanted to see in the society. I became a GIANT in a world where women were looked down upon.
After my follow up work, I continued to volunteer with my Association, helping out with various tasks they had. In 2020, I became a member of the YOUTHEX, which is a governing body for Young Leaders in my country, as the Projects Advisor. In 2021 I was very fortunate to attend the 37th World Conference as part of the International Service Team. I was also part of the YESS Task Force in 2021. I'm grateful that the YESS Program jumpstarted my professionalism as it helped me when I worked as an Educational Consultant with an overseas academic agent. I honestly would not trade my exchange experience for anything else.
At the moment, I'm pursuing a Bachelor of Science Degree Honours in Audit and Risk Management at the University of Zimbabwe.
This is truly my journey of a lifetime
My name is Mwanza Daizzy from the Girl Guides Association of Zambia. I was a YESS Participant to Rwanda in 2016. The YESS Girls' Movement has made me a different person. I can now confidently speak in public, socialising with different people from different countries. I also learnt how to appreciate other people's cultures. The YESS Girls' Movement has given me the opportunity to learn new languages, having more knowledge on how guiding is done in different countries and having more skills on various projects that we work on. For example, the Green Tech generation, Free being me, Menstrual Hygiene Management just to mention a few. I am able to work with a large number of people to achieve our goal. The YESS Girls' Movement has also given me opportunities to explore and travel around the world to engage myself in different activities and make new and lots of friends. That's my Journey of a life time.
Young women should grab the opportunities when they come!
I am Linda Wilson, a pioneer of the YESS Girls' Movement from Ghana deployed to Rwanda in 2020. I am here to tell you that change is possible and if a window of opportunity appears, don't pull down the shade. Grab it!
Participating in the YESS Girls' Movement has helped me build my self-confidence and boosted my self-esteem enabling me to lead, grow and impact my world. While in as a YESS Participant, I realised I was around good energy where I connected with other sister guides and learnt a lot of new things.
Being one of the first YESS Alumnae from Ghana came along with great expectations and responsibilities and I employed the knowledge and skills I acquired to help my home association. For instance, drafting an Expression of Interest for the 'BOAME Project' which is an initiative of the United Nations Population Fund (UNFPA) in collaboration with the Domestic Violence and Victims Support Unit (DOVVSU) to provide support to victims or survivors of domestic violence in Ghana, gave Ghana Girl Guides Association a place as a volunteer. Being dedicated to girls and young women, we realized that they are put at a higher risk of gender-based violence hence the need to be part of this initiative.
In 2021 I was the team lead of Wheels of Change (YESS Advocacy group) and we carried out the various core initiatives including Red Pride and the Yes! Girls Can Campaign. We also presented a 7-point statement on the plight of COVID-19 on girls to the Ministry of Gender, Children and Social Protection.
Presently, I am pursuing a Master of Arts (MA) in Analysis and Design of Social Protection Systems in Germany. 'YESS' isn't a year in your life, it's a life in years. My life has changed and I'm changing with it.
The YESS Girls' Movement is the foundation of my career
---
My name is Alice Marie Claude Bamwe, a YESS alumnae from the Association des Guides du Rwanda (AGR). I was hosted by Girl Guides Association of Zimbabwe in 2016.
It always feels nostalgic to talk about the exchange. It takes me back to Avondale road taking a taxi to the office and how Eve, Maria, Perpetua and I used to sit around a table working on a monthly report till Mukoma Walnut comes to call us for lunch. All these feels like yesterday.
Back home from the exchange, I was nominated to coordinate one of AGR's projects called NiNyampinga. This project works to empower young girls via a quarterly journal known as NiNyampinga Magazine distributed countrywide. The experience I got from my exchange has been key to my success in coordinating this project for 4 years.
In 2019, I was lucky to be hired as the Logistics Coordinator and Translator at Bersama International, an international organization that works on fundamental changes to the practices, policies and behaviours that impact young people globally.
Currently, I am employed by AGR as a Field Officer for Speak Out project which focuses on promoting sexual reproductive health rights and addresses gender based violence. I'm also assigned to coordinate the Menstrual Hygiene Management (MHM) project in our organization.
My experience from the exchange and these responsibilities also motivated me to pursue my master's studies in Project Management that I started since 2021. The opportunity to participate in the YESS Girls' Movement has indeed been the foundation of my career.
"I found family in guiding"
---
Family is not necessarily the people who are of our blood, but also the people who share our joys and our sorrows.
---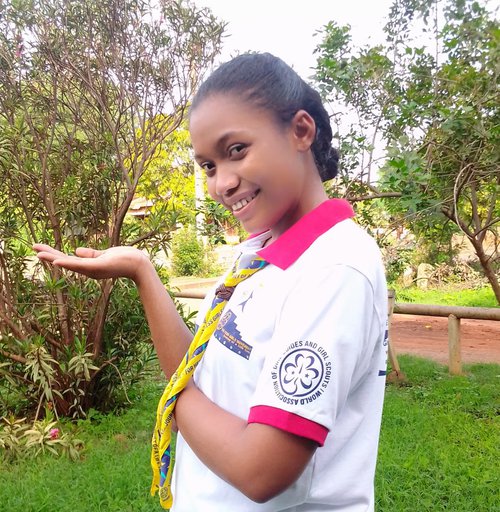 My name is Joyce Gildas MAJIDY, a Young leader from Fanilon'I Madagasikara and a 2019 YESS participant to Malawi. Since I joined the Girl Guides, I found a family. It is not necessarily the people who are of our blood, but also the people who share our joys and our sorrows.
Girl Guiding has given me the most wonderful opportunities where young girls can create a better world, the chance for being an agent of change and has opened many doors for me. Being part of guiding has increased my sense of responsibility. I'm more confident and always ready to voice out and to take action for the community.
In 2019 I was lucky to be selected to participate in the YESS Girls' Movement as a participant to Malawi. It was the beginning of my international journey. When I returned home, I was selected to participate in the JLS 2019 themed "LEAD OUT LOUD" where I learnt the leadership mindsets developed by WAGGGS. Furthermore, in 2020 despite the advent of COVID-19, I was selected to join the districts commissioners team for the branch aged from 14 to 16. In 2021, I was elected to be the President of the Youth Community in my district and I was also appointed to join the national team of Fanilon'I Madagasikara as deputy of the youth committee in the northern province of Madagascar. I'm also an Advocacy Champion of WAGGGS in the fight against plastics pollution and Fanilon'I Madagasikara's COVID Crushers team leader for the YESS Girls Movement in 2022.
Currently I am also undertaking my graduate studies at the university but the passion I have for youth work gives me the motivation to balance work and study.
"Now a commercial pilot, I spread my wings and sour high."
---
Being involved in a Movement which works for gender equality and young women's empowerment; and seeing few women in STEM , inspired me to go towards that sector.
---
I am Subista Dhwoju, Ranger Leader from the Nepal Scouts. I started my Guiding journey as a Brownie in 2005 and the journey continued with many fun experiences. In 2018 I went to Madagascar as a YESS participant and this turned out to be a major turning point in my life.
For someone who got out of high school with big hopes and dreams to travel and to explore; the YESS Girls' Movement was just the right opportunity for me.
Life after the exchange has mostly been fun. I volunteered with the Nepal Scouts as part of the mandatory YESS Girls' follow up work with my home association. And as soon as that was complete, I worked with a group of friends to conduct the "International Youth Conclave 2018". It was a Youth Summit with participants from more than 10 countries from Asia. We met to discuss the most concerning topics such as climate change and gender equality along with entrepreneurship and the world economy. All the experiences I gained from the YESS Girls' Movement helped me with this, from being an exchange participant to an organiser of an international programme. Soon after completion of the programme, I got an opportunity to participate in the Helen Storrow Seminar 2019. I learnt about the WAGGGS leadership mindsets which are still very useful for me. Every learning experience has bcome a little part of me, helping me to become better a person.
One of the major milestones in my life after the exchange was when I joined flight school to be trained and become a commercial pilot. Being involved in a movement which works for gender equality and young women's empowerment and seeing few women in the STEM sector inspired me to go towards it. Aviation has always been a "male-dominated profession" with less than 5% of pilots being female around the world. There was only one female instructor among more than 20 instructors. Furthermore, only 10 young women were counted in school with more than 100 young aviators. But to my surprise I never faced any sort of discouragement or discrimination. Young aviatrixes were always motivated to learn and move forward. There were times when I was discouraged and felt like giving up, but my seniors, mentors and my strong will to prove that "when you dream it , you can do it, no matter what." This pushed me forward towards my childhood dream. And in December 2020, I graduated with my commercial pilot license.
There were ups and downs through the journey but my past learnings had always helped me through. Someone who once was scared of heights is no more scared of flying, but spreading her wings, soaring high.
"Being a YESS Alumnae is one of the greatest honours of my life."
Linet Odero, 2019 YESS Participant from Kenya to Rwanda
---
"Good afternoon Ms. Linnet, regarding your interview for Youth Exchange South to South programme coordinator for Kenya Girl Guides Association, we hereby accord you the offer. Congratulations!" This was immediately after coming from the exchange programme in Rwanda where I learnt new skills and explored interesting ideas - and proved to my inner self that I was capable of being anything I wanted to be. I was very thrilled to hear this exciting news.
Earlier before this, immediately after my exchange, I had done my YESS Girls' follow up activity in various counties within Kenya. The more I went for these expeditions, the more I began to notice the simple things that distinguished a boy from a girl. I learnt that my silence is not helping the situation and decided to advocate for girls and young women.
Being the YESS Country Coordinator for Kenya helped shape me, and take me out of my comfort zone. In my responsibility as the YESS Country Coordinator, I have the unlimited opportunity and platform to make young women feel special, speak out and never feel unworthy.
No matter what I have accomplished, who I have met or where I have gone, one of the greatest honours of my life is being a proud YESS Alumnae. I asked God to make me a relevant person as this was a step towards my core value of being passionate about girls and young women's empowerment.
"From just a girl to a shero."
The dream to become a Power Ranger and end up becoming a Girl Guide Ranger has been remarkable. Since I was a 5-year-old, I have watched Power Rangers and wanted to do something to save the world, which has ultimately motivated me to volunteer. It's been a journey of 11 years with Girl Guiding and still counting.
In 2018, I got the opportunity to attend the very first workshop by Ujani Chakma, a former YESS participant of our country. For the exchange of 2019, I couldn't apply because I was not officially 18. So, I applied for 2020 and got selected to become one of the representatives of Bangladesh. When I got to know that my destination for the exchange was Zambia, I started googling to learn more about Zambia's culture, weather, food, lifestyle, etc. At that time, I was seeking a bit of knowledge about the exchange experiences from our alumni. This particular thing has made my exchange smooth with an adaptable mindset. Being the only Asian on the team was incredible and added spice to my journey.
After returning from the exchange, I became more active in Guiding activities in my Member Organisation and in the Asia Pacific region. Apart from that, I continued sharing my exchange experiences with girls from different parts of the country and motivated them to be part of the YESS family. Last year, I served as the team leader of the Communications Team, which was awarded as the 'Best Team' of team Bangladesh 2021. In the 'YESS Alumnae Summit 2021', I received the alumnae ' Back to My Roots' award. Currently, I am working as the team leader of Wheels of Change to achieve some more milestones.
From being just a girl before the exchange, I'm now a proud Shero in my country.
"I was empowered to empower."
My name is Ellena Carmen SIMBARE. I am a Young Leader from Burundi Girl Guides Association and a 2015 YESS participant assigned to WAGGGS in Uganda.
Since I participated in the YESS Girls' Movement, my professional life and my participation in my Girl Guides Association has never been the same. I have improved my leadership skills and knowledge.
The following year after the exchange, I participated in the preparatory course of the 2016 YESS Girls' Movement as a facilitator. It was an opportunity for me to share our adventure and experience with our young sisters who were about to start their journeys of a lifetime.
Later I was nominated as the deputy international commissioner for Burundi Girl Guides Association where I had the chance to look for opportunities for other young Girl Guides to go and gain skills especially building their confidence to become agent of change. I also had the opportunity to coordinate the YESS Girls' Movement in my country.
There is no doubt about it, the YESS Girls' Movement empowered me to empower other young women.
"I began my international leadership journey as a YESS Participant."
I am Minohasina Andriantahina, a Girl Guide from Mpanazava Eto Madagasikara. In 2019, I travelled to Uganda to be part of the YESS Girls' Movement. In the beginning, I expected a lot from the programme such as getting to know new Girl Guides from the WAGGGS Africa and Asia Pacific regions; improving my leadership skills and challenging myself to learn and practice new things. And surprisingly, that experience was more than I expected.
Through my participation in the programme I gained lots of knowledge, I got my personal development enhanced. I got more interest in tackling issues affecting girls and young women and I got the opportunity to lead international teams. I can say that I grew through learning by doing. It is one of WAGGGS' methods for non-formal education. Furthermore, I also got the opportunity to represent the YESS Girls' Movement during the Africa Regional Conference in Rwanda in July 2019.
The YESS Girls Movement is where I started my international leadership journey.
After taking part, I joined the national team of Mpanazava Eto Madagasikara as deputy international commissioner. I took part in the "Juliette Low Seminar" in 2019 in England; in 2020, I worked as "Communication Consultant" for the Girl Powered Nutrition programme of WAGGGS within the Skotisma Zazavavy Malagasy and now I am back in the YESS Girls' Movement as a Communications and Digital Community lead in the WAGGGS YESS coordination team.
"After the exchange, I found purpose."
---
'The purpose of life is not to be happy but to be useful, honorable and compassionate.'
---
My name is Sonde Iyanuoluwa, I'm from Nigeria and I went to Madagascar as a YESS participant in 2020. While in Madagascar I met Joviale who told me how girls use cow dung in her village as menstrual material during their periods. I didn't believe it till I read about another girl called Limpo from Zambia who also uses cow dung; and Munyes from Uganda who digs a hole in the ground and sits there for days when she is having her period.
Growing up, I listened to many scholars speak about finding purpose for existence. I particularly held on to a quote by Ralph Waldo Emerson that "the purpose of life is not to be happy but to be useful, honourable and compassionate; to have it make some difference that you have lived and lived well".
Being a Girl Guide and a lady myself, I understand what young women like Joviale and Munye go through. From their stories, I got a conviction to take action. As a participant, the YESS Girls Movement had trained me on the WAGGGS Menstrual Hygiene Management (MHM) curriculum 'Rosie's World' and its delivery, as well as how to make reusable pads.
Upon my return to Nigeria, with this knowledge, I started an initiative named IRPEP (Iyanu Reusable Pad Empowerment Project) which focuses on distributing reusable pads to girls and young women in the rural community for free. I became an advocate for menstrual hygiene on all media platforms including major television stations in Nigeria. So far I have distributed over 600 reusable pads to people in Nigeria.
My passion for menstrual hygiene also helped me secure the position of the MHM Africa Coordinator for WAGGGS and motivated me to get a masters degree in Health Education with a focus on Women's Health.
The YESS Girls Movement did not just help me find purpose but equipped me with necessary skills to function professionally and effectively in my chosen field. Indeed, it is a journey of a life time !!
"It was a huge responsibility to represent my country, Senegal !"
I'm Fatima Fonceka from the Senegal Girl Guides and I went to Uganda as a YESS Participant in 2019.
Participating in the YESS Girls programme is one of the most beautiful experiences of my life.
I remember that before I left, I was a little apprehensive because of the language. In Senegal we speak French and Uganda is an English speaking country. Besides the language challenge, I had the responsibility of representing my country Senegal.
In the first two weeks, we were oriented and trained by WAGGGS on the responsibilities and duties we were to do while in our host countries.
We were four people from four different countries. We called ourselves Team Uganda 2019 or Rubies sisters . It was not easy for us because we were all so different! But we ended up accepting our differences and moving forward together.
Working with the Uganda Girl Guides Association (our host Association) was also very informative for me. I learned to be professional and some useful practices for my home Association.
On returning home to my country, I was no longer the same.
Because of my exchange experience, my commitment and love for Guiding has increased. I had grown up physically, socially, emotionally and professionally. The only thing I wanted was to share all the good practices I had gained with others back home.
Since my partner Anne Fatima and I were the first YESS Girls programme participants in Senegal, we had a big responsibility to ensure that the programme was known in our country. We participated in several activities under the supervision of our National association (like camps, sensitizations and trainings); and supported the preparation of the YESS Girls Senegal 2020 team.
Since my return from the exchange, I have also been given much more responsibility in my home association.
"Many doors opened for me after the exchange."
I'm Mbali Mngomezulu, a pioneer of the YESS Girls' Alumnae from South Africa. I was one of 11 YESS Girls' participants from 4 countries in 2015; and I went to Uganda for my exchange.
While on exchange I learnt a lot and shared my knowledge with others too. By the time I returned home my life had changed so much. I was privileged to get Guiding positions as a Regional Secretary and also a Regional Ranger Adviser. In these roles, I did many trainings with girls and young women from WAGGGS' Free Being Me programme and also it's Stop the Violence campaign as well as many other national and regional trainings. I was also awarded the Peer Education qualification.
In 2018 I was invited to the National Council as an observer and as a member of procedural committee. This year (2021) I was also part of WAGGGS' Together We Rise campaign against gender-based violence in which I was working as assistant manager. I was then nominated as the Youth Board Member - taking on an important governance role within GGSA , and I was awarded the Naledi youth award.
Before I went for my exchange I did not have any qualifications. But on return I was motivated to work on my career so in 2017 I enrolled for a national certificate in supply chain management and graduated in 2018. A year later I enrolled at the university of South Africa where I am currently working towards my Bachelor of Education.
"I wouldn't trade Girl Guiding for anything"
---
'"I wasn't a Girl Guide by the time I applied to go for the exchange, but I knew no matter what happens with my application,
Girl Guiding was going to be a part of me. Today it is still the best part of my life and I don't see myself trading that for anything."
---
It feels like it was just yesterday when I signed the agreement for the exchange programme. Writing this makes me remember how it all felt; from packing my bags to boarding the plane to that first step out onto Ugandan soil.
There were so many first experiences for me. It was my first time on a plane, working in an office, or even sending emails. In fact my life had come to a turning point and I was not nervous at all because it all felt like destiny. It felt like home; I felt like I was not going to stay for seven months. I was there to stay. And sure enough, I stayed.
But let me first take you right back to the beginning. I had just finished high school and I didn't know what I wanted to do next but one thing was clear I did not want to go straight to university. I didn't feel ready for that. I wanted time to think about it. And well God, as he always prepares us for our next steps in life, he gave me the chance to grow.
I was very hopeful about my application for the exchange, even though I wasn't even a Girl Guide yet. I had a feeling that no matter what happens with my application, Girl Guiding was going to be part of me and I was right. It is the best part of my life to this very day and I don't see myself trading that for anything. As faithful as God is, my application was successful.
The seven months that I then spent as a YESS Girls' participant in Uganda, working with Mrs. Robina Asiimwe Sentumbwe helped me identify my career path, making them the most valued months of my life. I realised my potential, I made life long friends with young women from different African countries, some of whom I don't go a day without contacting.
Mrs. Robina Asiimwe Sentumbwe did not only guide and support me in executing my responsibilities, she went the extra mile as my mentor and is a mother to me still now.
With her advice and support I managed to apply for a Bachelors' Degree in Industrial and Organizational Psychology at Makerere University in Uganda. As I write this I am in my final year of study. God knew it all from the start.
In addition to going on exchange , I have participated in lots of different opportunities presented to me by the Girl Guides from facilitating the YESS Girls' preparatory course to volunteering as the Lead 'Capacity Building' Volunteer for the YESS Girls' Movement for 2021.
Being away on exchange taught me a lot of things. I grew up a lot and my perspective changed in ways that I never would have imagined. I now can say that I am independent, assertive, open to new ideas, and more confident about myself. It was the best time of my life. I will always remember how choosing to go on the YESS Girls' exchange helped me discover what the world has in store for me and to walk through my life with confidence!
"Never the same after the exchange"
Ackissah Baluti is my name. I'm a Young Leader from the Malawi Girl Guides Association and a 2018 YESS Alumnae participant to Uganda.
Ever since I participated in the YESS Girls' Movement, my life has never been the same. I have become a very confident woman, a reliable agent of change and there has been a great change in my leadership skills and knowledge.
After the exchange, I started working as a mentor to girls in rural areas with the support of the Malawi Standard Bank; a trainer in WAGGGS' Free Being Me, Action on Body Confidence and Menstrual Hygiene Management programmes.
Nationally, I was selected by my government to represent Malawi youth in delivering the 2018-2022 National strategy for Adolescent Girls and Young women. And internationally, I facilitated the 2019 YESS preparatory course in Uganda, attended WAGGGS' Helen Storrow Seminar in Switzerland and in June, I was trained as a WAGGGS Africa region facilitator.
I now work as the YESS Programme Assistant and I'm really grateful to be working with the very programme that has brought about such a change in me and my life. Participating in this programme, has made me a great, reliable and confident leader, and I not only witnessed this change in myself, but many others who knew me before too.