National Commissioner
National Headquarters and Training Centre
Plot Number 12, Street 7 Sector H-9/4
ISLAMABAD
Website: pgga.org.pk | Email: guiding@pgga.org.pk
Facebook: Pakistan Girl Guides Association
Twitter: PKGirlGuides
Tel: +92-51-4442531 | Fax: +92-51-4433088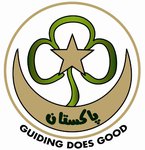 108,098

Number of Girl Guides in 2018

Member

Full Member

Girls only

Yes
I promise that I will do my best: To do my duty to Allah Taala* and Pakistan, To serve mankind and participate in nation-building activities, To obey the Guide Law.
Pakistan Guide Law
A Guide can be trusted.
A Guide is loyal.
A Guide is friendly and a sister to all other Guides.
A Guide is polite and considerate.
A Guide is kind to animals and respects all living things.
A Guide is obedient and self-disciplined.
A Guide is helpful and makes good use of her time.
A Guide is courageous and cheerful in all difficulties.
A Guide is thrifty and takes care of her own and other people's possessions.
A Guide is pure in thought, word and deed.
I promise to do my best: To obey God, To love Pakistan, To help other people every day, especially those at home, and To keep the Junior Guide Law.
Junior Guide Law
A Junior Guide obeys her elders and tries to do a good turn every day.
Development of the Movement
Girl Guides have been active in the area which is now Pakistan since 1911. In 1928 this area, along with that of present-day India and Bangladesh, became a Founder Member of WAGGGS under the name of India.
In 1948, the Pakistan Girl Guides Association was welcomed as a separate member of WAGGGS.

The Association's National Headquarters and Training Centre was opened in Islamabad in 1974. It provides training to Guides, trainers and adult members of the Association, besides national events for Guides and Senior Guides.

In 1983 Guiding was extended to Gilgit and Hunza in the north of the country.