Girl Guides Association of Cambodia
Chief Commissioner
#wh96, St 6 Sangkat Tuol Sang Ke
Khan Russey Keo
P.O.Box 1028
PHNOM PENH
Email: ggac@online.com.kh
Tel: +85523426267 | Fax: +85523426267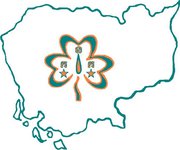 5,310

Number of Girl Guides in 2018

Member

Full Member

Girls only

Yes
On my honour, I promise to do my best: To do my duty to my country, my religion and my King; To help other people at all times; and obey the Girl Guide Law.
Cambodia Guide Law
A Girl Guide's honour is to be trusted.
A Girl Guide is loyal.
A Girl Guide is helpful and useful to others.
A Girl Guide is a friend to all and a sister to every Girl Guide.
A Girl Guide thinks of others before herself.
A Girl Guide protects the environment.
A Girl Guide is self-disciplined.
A Girl Guide smiles under all difficulties.
A Girl Guide uses everything properly and avoids being wasteful.
A Girl Guide is clean in what she thinks, says and does.

On my honour, I promise to love my country, my religion and my King, To do good turn every day And to obey the Girl Guide Law
Dragonfly Law
A Dragonfly never lies
A Dragonfly is sincere
A Dragonfly respects herself and others
A Dragonfly is always happy
A Dragonfly is always ready
Development of the Movement
Girl Guiding was introduced to Cambodia before 1953, during the French Protectorate, but was banned during the Independence, Khymer Republic and Vietnamese Occupation.
After the Paris Peace Agreement in 1991, WAGGGS, through former Guides from Europe and the Asia Pacific Region, proposed to revive the Movement. In 1996, Mrs. Leang Meng Ho, the Director of the Cambodian Institute of Human Rights (and a former Cambodian Girl Guide of France) took the lead and re-initiated the Movement with a group of 16 university students. With the assistance of a French volunteer, the Development Executive for the Asia Pacific Region and trainers from the Philippines and Thailand, these founders were able to gain skills in leadership and management of troops.
In 1998 the first National Executive Committee was formed, with the responsibility to maintain the Fundamental Principles of the Girl Guiding Movement, furthering the advancement of Guiding in the country and running the Association according to its Constitution.
In 1999, Her Majesty Queen Norodom Monineat Sihanouk of Cambodia became Patron of the GGAC.
Since 1991, GGAC members have participated in international camps and trainings and attended the Asia Pacific Regional and the 31st World Conference in Manila where they became Associate Members of WAGGGS.
GGAC was accepted as Full Member of WAGGGS in 2011.