Highlights from the Young Women's Advocacy Forum
Check out all the highlights from the WAGGGS delegates at the Young Women's Advocacy Forum and Women Deliver.
---
More than 6,000 world leaders, influencers, advocates, academics, activists, and journalists came together in Vancouver on 3-6 June 2019 with the aim of promoting and achieving progress for girls and women everywhere.
The conference included a wide range of voices and presented new knowledge and solutions. It focused on many key areas from health, nutrition, education, economic and political empowerment to human rights, good governance, and girls' and women's agency and equality.
Our 2019 Delegates
Lanto Randremasinjara, Madagascar
I've been in the Girl Guides since I was 6 years old and have been involved in lots of activities. Without the Guides and all I learnt from them and their activities I wouldn't be the Lanto that I am now! My Guide leaders inspired me and always gave me new dreams and new challenges which really brought out the best in me, and I'm proud of how much I've overcome.
Now I am branch-leader trainer for the Girl Powered Nutrition programme in the national Guiding federation of Madagascar, and in my professional life I am an agronomist engineer.
I am very excited to attend Women Deliver and to be among the WAGGGS delegates. I want to learn more about efficient ways to influence decision-makers in Madagascar. Let's make the Ministers of Education and Health act to improve the knowledge of girls and their access to good, nutritious food.
I want to share my experiences at Women Deliver and to give adolescent Malagasy girls a way to improve their nutrition and to share with them the importance of advocacy in nutrition. A powerful word is like a spark but speaking out for change can make an explosion.
---
Ummy Mwabondo, Tanzania
I am a young leader volunteer at Tanzania Girl Guides Association, an advocate champion for the Girl Powered Nutrition Programme, and professionally I am a secondary school teacher.
Guiding has been a platform for me to open up and a channel for me to speak up. I have recognised my potential through Guiding and now I feel so positive and strong. Guiding makes me want to be more daring and believe in myself. I am no longer the shy girl; I can talk and am more confident and knowledgeable.
Through Guiding, girls are enriched with knowledge and positive ideas to wash away the negativity in their life. This boosts girls' confidence and turns them into more positive beings, able to think for themselves. I am able to speak for myself and others, and reach out to people.
I like educating others and sharing experiences because it makes me feel very helpful and useful. I want to keep on doing this and keep on learning.
---
Valentine Muhindo Masereka, Tanzania
I am an advocacy champion for the Girl Powered Nutrition Project, advocating about the effects of iron deficiency and anaemia on girls and young women. Through my advocacy work, I have met with many different Government Leaders in my country including the Regional Nutrition Officer, District Educational Officer and Regional Commissioner.
As an advocacy champion I have already made some changes in my region. Girls are now given and allowed to take folic acid and iron tablets, whereas before these were only given to pregnant and breastfeeding women. Some girls have also changed their eating habits.
I am very interested in nutrition because I am studying in form five at school and my ambition is to be a doctor. Advocacy was new to me but now I recognise that I am able to speak out and make changes in my society.
---
Melina Rocío Vázquez, Argentina
Guiding, for me, means a lot. My mum founded my Guide group and I've been a Guide since I was 8 years old. I never thought it would be so good but I'm so grateful. It has given me the tools and skills necessary to be a good leader. It helped me with visions and objectives and clear ideas and gave me space to just be myself.
The Guides I grew up with are all very different, but we all accepted each other and now we are like sisters and openly share our opinions and ideas. Everyone knows that at Guides you can voice what you feel, and there are lots of opportunities to try and use your voice for change. I believe that all Guides, working together through WAGGGS, are creating generations of girls and women empowered with gender equality and strong values.
I am proud to work with girls and young women. We are all from different countries but we work together for one reason – to raise our voices. Being a Guide opens your mind and you will never be the same person again! The ceiling is the sky and you can make your dreams come true.
---
Justine Danielle Bautista, Philippines
I owe a lot to the Scouting movement for bringing out the best in me. Being a Girl Scout empowered me to become the person I am today - a leader who is passionate about making a difference. It also helped me see the important role Girl Scouts of the Philippines (GSP) plays in shaping future leaders.
I am passionate about building body confidence and self-esteem in my fellow Girl Scouts and always tell them to believe in themselves and give 100% commitment to whatever they do. I have learned to never underestimate the small steps that people take because you never know how they will affect the future.
Becoming the Girl Representative to the Central Board and member of the National Program Committee at the GSP for Triennium 2015 - 2018 was a real highlight for me. It gave me the chance to work on programme planning and implementation and serve as the voice of Girl Scouts.
I think my participation in the Women Deliver 2019 Conference will enhance my knowledge and understanding of advocacy, which I will share with my fellow Girl Scouts in the hope of achieving our dreams and getting closer to transforming our nation.
---
Izabel Sanches, Brazil
I've been a Girl Guide since I was 6 years old and am the fourth generation of Girl Guides in my family. I joined after hearing my grandmother talk of camping trips, friendships and leadership.
Being a Girl Guide has given me confidence. It is my passion and shows me that I make a better world and there is nothing more gratifying than this.
My grandmother used to tell me Guiding stories and now I have good memories and stories of my own - such as my time at the Youth Forum in São Paulo with Guides from all over Brazil. It was here that I realized that we are responsible for the next generation and need to think about what kind of world we want to live in.
Being a delegate for Women Deliver 2019 is overwhelming for me. There is so much I want to learn and take back to share in Brazil. I want every girl in the world to feel strong, passionate and confident about their beliefs and dreams, and to be responsible for what kind of world they want to be part of. That's why we are here, isn't it?
---
Julieta Ramírez, Mexico
I've been a Girl Guide since 2015 and I'm very proud of the woman I am thanks to Guiding. Girl Guiding gives you education, friendships, empowerment, experiences, vision and lots more. I have found the best friendships in Guides and remember camping with my friends, watching the stars, laughing and realising the amazing people this movement has.
Advocacy is one of the biggest tools being a Girl Guide has given me and it has become an essential part of the work I have been doing with the project "1, 2, 3 por mi".
Guides has given me experience of being a leader, finding my voice and working to eliminate the issues that affect women in my country. These are things that I will always value and that's why I believe in the strength of the movement, the impact it can have on so many lives and its importance in changing the world.
I am months away from university and looking forward to studying International Relations. I am excited for this new chapter and ready to apply the good things I have learnt in my school, in my life and in the world.
---
Angelika Joy Binas, Philippines
I have been involved in the Girl Scouts in the Philippines since I was young and think it's the perfect place for girls to grow.
When I was growing up I didn't know what I was eating or even bother to think about why I was eating it because community traditions mean you don't question these things; you eat whatever is served regardless of whether it's healthy or not.
I didn't know my body needed nutrients to grow and now I am below average height for a Filipino and I don't want another child to grow up like me. I want the future generation to live a life questioning what they eat and knowing that you need nutrients to grow and be healthy.
Today, together with the Girl Powered Nutrition programme in the Philippines, I look forward to this future. I am eager to talk to the decision makers in my country and to raise their awareness about nutrition. I want them to confront the growing problems of malnutrition, dwarfism, obesity and poor diets.
Now I am an education graduate and ready to teach people how to grow and develop properly so that they can reach their dreams.
---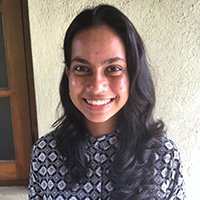 Nabeela Iqbal, Sri Lanka
Girl Guides started out as an extra-curricular activity but now it has evolved into a community and platform for me to reach out to young girls on issues that concern them.
I have travelled to every province in Sri Lanka as a member of the 'School Relations Tour from Sri Lanka Unites' to conduct workshops and assemblies in schools on peace and reconciliation. Being part of a minority group myself this has been a very personal mission in my life. I have helped students take a stand against prejudice because their role in Sri Lanka's reconciliation process is vital.
I used the lessons I learnt on the Tour to lead a team who have been editing and revising a handbook for senior Girl Guides. We want to make the handbook more progressive, proactive and empathetic so it can really help young girls reach their full potential and find their purpose. We've added in new modules related to advocacy, civic-engagement, reproductive health and career guidance.
As an environmental science student hoping to pursue law afterwards I believe that empowerment and grass-roots change is essential. Being empowered helps you do better so that in turn you can help others around you.
---
Diana Puente, Mexico
I have been a Girl Guide for almost seven years now, and I am convinced it has shaped me into the woman I am today. Since I was little I have loved doing a lot of activities in my free time – ballet, gymnastics, piano and guitar playing, and diving. But as a young athlete I had a lot of insecurities, so finding my way into the Guides came at just the right moment for me.
I am currently a leader of Girl Guides age 7 to 9 years old and I can see the way Guiding helps them grow. The process of going from self-doubt and low self-esteem to raising their hands and volunteering to sing a song in front of the group makes me fall in love with the Guide Movement day after day. We have the power to lead and leave a positive impact, and we can give this power to more girls.
As an economics student I have become passionate about gender equality, women empowerment, mental health, and climate change. I want to make a positive impact in the world, advocate for what I believe in, and grow professionally by doing so.
---
Hanitra Rarison, Madagascar
I am an agronomist engineer now but it was my mum's experiences in the Girl Guides that inspired me to join and experience Guides for myself. It was here that I became involved in girls' empowerment and the Girl Powered Nutrition Programme (GPN).
I was always passionate about food security and when I joined the GPN I learnt about the need for girls to improve their nutrition status and this motivated me to be an agent of change for community action and advocacy.
I then ran an advocacy campaign focused on girls' adolescent nutrition and realised how advocacy can make a big impact. It also taught me to be confident in speaking with influencers and decision-makers and to develop networks, and in July 2018, I was a WAGGGS Representative at the Global Youth Leaders for Nutrition Programme.
Nutrition is the foundation of life and good nutrition ensure a sustainable future. I am convinced of this and always speak out to defend this issue. That's why I am so motivated to take part in Women Deliver and share my experiences from Madagascar around advocating about girls' nutrition as well as meeting other activists. Now is the time to take action!
---
Milagros Rodriguez, Argentina
I have been a girl guide since I was 8 years old. I have spent more than half my life as a Girl Guide and I don't regret that choice. If you ask me why I am a Girl Guide, I will tell you: I like the serenity of the Girls Guides and their way of shaking hands strongly, I like their loyalty and their manners, and I like the way they love others more than themselves, and help everyone as much as possible.
For me, Girl Guides is a safe place where I can talk about everything, enjoy things and be me. It empowers me and it gave me a lot of tools to become the woman I am today, by teaching me values and abilities that I wouldn't have learned elsewhere.
I am passionate about body confidence as it's a topic that affects the self-esteem of girls and women and how we think about ourselves. Being part of Women Deliver 2019 will mean I can learn more about body confidence and develop my advocacy skills with girls and women from around the world. I can then share this knowledge and empower more girls in my community.
---
Krysta Coyle, Canada
I am a cancer research scientist, and have a particular interest in women's health issues, and gender in science policy and scientific research.
I believe that while gender-based discrimination looks different in every country, it still exists in every community, and affects the life of every girl and woman. As a result, the voices of girls and young women often go unheard at decision-making tables.
But advocacy and campaigning has the power to raise individual voices into a powerful roar, ensuring that the lived experiences of girls and young women are respected and valued.
I want to use my time as an advocate to argue for the systematic destruction of the social and cultural barriers that girls and women face in every corner of the world.
---
Mirén Bravo, Mexico
At first, Guides was just a place where I used to see my friends, go camping and on sleepovers, then came the trips, the international programmes and without me even noticing it Guiding became a huge part of who I am.
Growing up wasn't easy because even though I seem strong, I always felt I wasn't good enough and didn't look good enough. But when I attended my training to become a spokesgirl for the Free Being Me programme that wall fell down. I didn't feel like I was alone and I understood that I could change and help others to do the same.
I´ve had the amazing opportunity of growing up surrounded by strong and powerful women, with a safe space to go to every week, and the opportunity to be able to raise my voice and to speak up for what I believe. But not all girls have these opportunities and that is why I'd love to reach out to and give all girls a safe place where they can be heard.
I am proud to be one of the 10 million girls who are willing to leave this world a little better than how we found it.
---
Sonakhi Malla, India
I have a been part of the Bharat Scouts and Guides for the past ten years and I always thank my guiding life for the personality and positive attitude that I have towards things today.
Guiding gave me an opportunity to challenge social stigmas and confidently live and inspire others to live. Because of this I got involved in a project on periods called "Reboot of thoughts on Menstruation" which has had a very positive impact on breaking the silence around period taboos, and making people more aware of period poverty.
I want to end gender inequality around the world by bringing out the importance of an extra 'S' when added to 'HE' and an extra 'WO' added to 'MAN to create "SHEROES" who won't wait for a "HERO" to make their life better! I believe little steps can definitely bring significant and powerful changes in society and help in creating more efficient leaders.
Being a Girl Guide is not part of my life, it is my life. Life was beautiful before guiding but now it has turned out to be meaningful and beautiful because of the positive impact guiding always has on my thoughts and actions.