July 2022 Reopening Update
In March 2020, Sangam made the difficult decision to close its doors in order to keep our staff, guests, and local community safe during the COVID-19 pandemic. We know it was very disappointing for groups who had planned their trips to Sangam in 2020 and 2021 and so we have worked hard to re-book as many groups as possible for stays in 2022 and 2023.
The situation in India remains difficult and numbers of new COVID-19 infections are being reported each day. Safety has always been our top priority and as a result, we have taken the difficult decision to remain closed to international guests until the end of 2021. By taking this decision, we are ensuring that the risk to our staff and our guests is as minimized as possible and that the local community has time to return to a more positive situation.
We plan to open from July 2022 but, in reality, our first event is likely to be our For Her World I event in July 2022.  We are looking forward to welcoming guests, volunteers and Tares through our doors again next year!
Please contact guestservices@sangam.wagggs.org to arrange any bookings or ask any questions regarding visiting Sangam.
We look forward to seeing you all in 2022 and 2023 to Ignite Your Spark!
Sangam COVID-19 Safety Protocol
We as the Sangam family would like to take this opportunity to share with our guests the measures we will be implementing at Sangam to ensure the safety of you and our staff's as we reopen in July 2022.
We can't wait to welcome you all back to Sangam, and as we do the safety and security of our guests and staff remains our highest priority. Our personalized care and quality has always been recognised for its meticulous standards, visible to our guests from the moment they arrive.
During your stay there will be a Wellness Didi (sister in Hindi), who is responsible for health and safety at Sangam, making sure that all necessary precautions have been taken. They will also be on hand at all times to make sure that guests remain happy and healthy during their stay with us.
To ensure the safety of all guests and staff, Sangam will be strictly following the latest COVID-19 guidelines issued by WHO, the Indian Government and WAGGGS and taking the following measures. These measures will be reviewed regularly and updated as needed:
Staff:
Masks will be worn at all times where more than one staff members is working in the same indoor or enclosed space (including vehicles).  Staff working in a space with no other people present (e.g. on their own) may remove their mask. Cloth gloves that are washed at the end of every shift will be used for handling of luggage throughout the journey.
All staff will maintain physical distancing with others of 6 feet at all times.
Staff will wash their hands on arrival at work and regularly throughout the day. Additional hand washing will be required depending on work undertaken.
All staff are fully vaccinated. Whilst it is not in the government guidelines to be vaccinated at work, the staff have all made the choice to be vaccinated. If a staff member develops symptoms of any illness before work, they will not come to work until they have spoken to their line manager. If there is any risk that they have a contagious disease they will not work on site. If their symptoms trigger a COVID-19 test they will arrange this test and report the results to their manager. Further instructions from the authorities will be followed.
If a staff member develops symptoms while working they will immediately inform their line manager and go home. They then follow the same protocol as above.
Guests:
Check-in:
Guests are greeted with folded hands 'Namaste' – we will not be hugging and shaking hands in line with COVID-19 protocol, we will us the traditional Indian way of welcoming.
Thermal temperature checks will be carried out on arrival using an infrared thermometer.  Any guest with a temperature of more than 100F/ 37.8C or greater will be supported to have a check-up and test at the nearest hospital. Guests are welcome to have their temperature taken at any other time during their stay should they request it.
All guests will be requested to maintain a safe distance – 6 feet/1metre at all times with those outside of their travel group. Preparations will be made to make this possible during mealtimes and sessions.
Guests need to wear a mask at all times when in public (outside of Sangam) and when travelling anywhere once they arrive in India. We ask that guests wear masks in the lobby when checking in and after this point it will be optional and guests should do what makes them feel most comfortable. Guests will be responsible for providing their own masks. We will have masks for sale in our shop at Sangam for guests who need to purchase one.
Hygiene:
Sangam Rooms, dorms and public areas will be disinfected daily.
Luggage, check-in keys and all other touch points are wiped with disinfectant after use. Cellular phone chargers and power banks provided for guest use will be sanitised before handing them out. All parcels, courier items, shopping bags, etc received or given to guests will be sanitised before reaching the guests.
Guests will be asked to regularly sanitise their hands at sanitizer stations that will be available in multiple locations around the centre.
Vaccines
Guests are encouraged to check Indian government guidelines on vaccinations to ensure they are able to move freely when travelling in India. Sangam will not be requiring vaccine proof, if guests would like to share their vaccination status, there is an optional question regarding vaccination on the individual pre arrival form.
In case of a suspected or confirmed case of COVID19:
For a suspected case of COVID-19 amongst a guest on-site, the Sangam team will help arrange an appointment with the local doctor as soon as possible. The guest must remain isolated in their bedroom until the appointment. Sangam will arrange transport to the doctor and if needed will accompany the guest to the doctor.
If guests do not have their own, Sangam will provide a mask to guests who are suspected of having COVID-19 and the person accompanying them, to wear on the journey to the doctor and while at the doctor's office.
Guests in the same travel group as the person who is suspected of having COVID-19 will be requested to stay on-site in their accommodation until advice from the doctor is available.
From this point, the next steps will be informed by advice from the doctor.  If a room is needed for isolation the Sangam staff will arrange this. They will also ensure any guest in self-isolation is provided with meals, necessary medications, and a means to stay in touch with their family/friends.
For a confirmed case of COVID-19 in a guest or volunteer who has departed from Sangam within 14 days, advice from the relevant authorities shall be sought and followed.
These measures will be monitored and reviewed on a regular basis to ensure they are fit for purpose and we are keeping our guests and staff safe.
If you have any questions, please reach out to us and we will be happy to talk to you to make sure you have all the information you need to feel safe on your visit. guestservices@sangam.wagggs.org
FAQ
I don't think it's safe to travel, why are you re-opening in July 2022?
Like the rest of the world, Sangam is adapting to life with COVID-19. And for any business or organization this means looking to how we operate in a safe and fulfilling manner. Sangam staff and WAGGGS believe that we will be able to safely open our doors and maintain a high-level of hygiene for both guests and staff. We have continued to monitor the situation in India and will continue to respond appropriately with safety as our highest priority.
Are you accepting new bookings for next year?
Yes, bookings are being taken from July 2022 with our first event being Reach for the Stars in January 2020. You can find our 2022 event schedule with further information including dates and prices here.
We will also be able to accommodate Independent Guests who are not booked on to a specific event, you can find more information about staying at Sangam as an Independent Guest here.
Will I have to quarantine on arrival?
We are predicting that by early 2022 the Indian Government will not require travellers to quarantine on arrival in India. As soon as we know any different we will let our guests know. You may need to quarantine on return to your home country, guests are responsible for checking the rules in their country.
Upon arrival Sangam staff will ask you to undertake hand washing and sanitization procedures. If you start showing symptoms of COVID-19 after you have arrived you will be quarantined .
Sangam will not allow guests already displaying symptoms of COVID-19 to check in. Do not travel if you are unwell.
I am high risk/vulnerable to COVID-19, can I travel? If not, can I get a refund if I already have a booking?
No, we do not recommend you travel if you meet the definition of high risk according to the World Health Organisation or in your home country. WHO have defined a person as high risk if they meet any of the following criteria:
Above the age of 60
Those with the following underlying medical conditions:

Diabetes
Cancer
Cardiovascular disease
Chronic respiratory diseases
High blood pressure

Adults who are classified as morbidly obese or have a BMI greater than or equal to 40 kg/m2
Sangam would prefer to aid you in re-booking your trip for a later time when it is safe for you to travel, however if this is not a viable possibility we will assist in refunds on a case by case basis.
Will you be providing face masks for guests? Will your staff be wearing face masks?
We recommend that you bring your own masks for travel and you can buy an extra "Sangam Branded Mask" in the Sangam shop. At the time of your event we will be following local government guidelines, whether this is physical distancing or the wearing of masks. This will be decided closer to the time.
Will you be providing disinfectant?
Yes, we will provide disinfectant for cleaning surfaces in all our buildings and on the campsite. We will also have hand sanitiser available in addition to handwashing facilities.
We ask guests to bring their own travel-sized hand sanitizer to use during programmes or when taking part in their own activities off-site.
I don't feel confident to travel or our country won't allow travel but my event is not cancelled, can I get a refund?
We would like to work with you to move your booking to a future event in 2022 or 2023. However, if this is not possible we will offer a full refund (excluding bank fees) for those who are unable to travel for one of the following reasons:
The Indian borders are closed to your country 14 days before you are due to arrive.
The country you are travelling from has banned international travel during the time of your booking.
Your Member Organisation has banned international travel during the time of your booking.
You are considered high-risk/vulnerable to COVID-19 – only the person considered high risk is eligible for a refund in this case, not the entire group.
If you cannot travel for any other reason we cannot offer a refund and encourage you to claim from your travel insurance. We can re-book you on to another event without any re-booking fees.
I want to volunteer at Sangam next year, is this possible?
Yes! We have several volunteer terms between June 2023 and April 2023 available from between 3.5 to 5 months. You can find further information about our Volunteer and Intern experiences, and the application process here.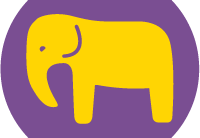 Sangam Icon
The Sangam icon is a yellow elephant on a purple background.