January 2022 Reopening Update
In March 2020, Sangam made the difficult decision to close its doors in order to keep our staff, guests, and local community safe during the COVID-19 pandemic. We know it was very disappointing for groups who had planned their trips to Sangam in 2020 and 2021 and so we have worked hard to re-book as many groups as possible for stays in 2022 and 2023.
The situation in India remains difficult and numbers of new COVID-19 infections are being reported each day. Safety has always been our top priority and as a result, we have taken the difficult decision to remain closed to international guests until the end of 2021. By taking this decision, we are ensuring that the risk to our staff and our guests is as minimized as possible and that the local community has time to return to a more positive situation.
We plan to open from January 2022 but, in reality, our first event is likely to be our Reach for the Stars event in January 2022.  We are looking forward to welcoming guests, volunteers and tares through our doors again next year!
Please contact guestservices@sangam.wagggs.org to arrange any bookings or ask any questions regarding visiting Sangam.
We look forward to seeing you all in 2022 and 2023 to Ignite Your Spark!
FAQ
I don't think it's safe to travel, why are you re-opening in January 2021?
Like the rest of the world, Sangam is adapting to life with COVID-19. And for any business or organization this means looking to how we operate in a safe and fulfilling manner. Sangam staff and WAGGGS believe that we will be able to safely open our doors and maintain a high level hygiene for both guests and staff. We have continued to monitor the situation in India and will continue to respond appropriately with safety as our highest priority.
Are you accepting new bookings for next year?
Yes, bookings are being taken from January 2022 with our first event being Reach for the Stars in January 2020. You can find our 2022 event schedule with further information including dates and prices here.
We will also be able to accommodate Independent Guests who are not booked on to a specific event, you can find more information about staying at Sangam as an Independent Guest here.
Will I have to quarantine on arrival?
We are predicting that by early 2022 the Indian Government will not require travellers to quarantine on arrival in India. As soon as we know any different we will let our guests know. You may need to quarantine on return to your home country, guests are responsible for checking the rules in their country.
Upon arrival Sangam staff will ask you to undertake hand washing and sanitization procedures. If you start showing symptoms of COVID-19 after you have arrived you will be quarantined .
Sangam will not allow guests already displaying symptoms of COVID-19 to check in. Do not travel if you are unwell.
I am high risk/vulnerable to COVID-19, can I travel? If not, can I get a refund if I already have a booking?
No, we do not recommend you travel if you meet the definition of high risk according to the World Health Organisation or in your home country. WHO have defined a person as high risk if they meet any of the following criteria:
Above the age of 60
Those with the following underlying medical conditions:

Diabetes
Cancer
Cardiovascular disease
Chronic respiratory diseases
High blood pressure

Adults who are classed as morbidly obese or have a BMI greater than or equal to 40 kg/m2
Sangam would prefer to aid you in re-booking your trip for a later time when it is safe for you to travel, however if this is not a viable possibility we will assist in refunds on a case by case basis.
Will you be providing face masks for guests? Will your staff be wearing face masks?
We recommend that you bring your own masks for travel and you can buy an extra "Sangam Branded Mask" in Sangam shop. At the time of your event we will be following local government guidelines, whether this is physical distancing or the wearing of masks. This will be decided closer to the time.
Will you be providing disinfectant?
Yes, we will provide disinfectant for cleaning surfaces in all our buildings and on the campsite. We will also have hand sanitiser available in addition to hand washing facilities.
We ask guests to bring their own travel sized hand sanitizer to use on programme or when taking part in their own activities off-site.
I don't feel confident to travel or our country won't allow travel but my event is not cancelled, can I get a refund?
We would like to work with you to move your booking to a future event in 2022 or 2023. However, if this is not possible we will offer a full refund (excluding bank fees) for those who are unable to travel for one of the following reasons:
The Indian borders are closed to your country 14 days before you are due to arrive.
The country you are travelling from has banned international travel during the time of your booking.
Your Member Organisation has banned international travel during the time of your booking.
You are considered high-risk/vulnerable to COVID-19 – only the person considered high risk is eligible for a refund in this case, not the entire group.
If you cannot travel for any other reason we cannot offer a refund and encourage you to claim from your travel insurance. We can re-book you on to another event without any re-booking fees.
I want to volunteer at Sangam next year, is this possible?
Yes! We have several volunteer terms between June 2023 and April 2023 available from between 3.5 to 5 months. You can find further information about our Volunteer and Intern experiences, and the application process here.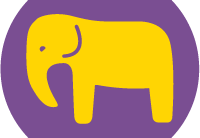 Sangam Icon
The Sangam icon is a yellow elephant on a purple background.