WAGGGS is proud to bring you a new, exciting network of Advocacy Champions. This unique opportunity for Girl Guides and Girl Scouts to advocate for the rights of girls and young women and champion gender equality at a local, national and international level.
By becoming Advocacy Champions, young women will have exciting opportunities for personal growth and development and to represent WAGGGS and their Member Organisation externally. We chose our 13 Advocacy Champions for their commitment to gender equality, their involvement in Girl Guiding and Girl Scouting and their ability to lead, challenge and create a ripple effect.
Our Advocacy Champions participated in the 63rd UN Commission on the Status of Women (CSW) in March 2019 to represent 10 million girls across the world.

Meet our Advocacy Champions!
Ines Goncalves, Portugal
---
"I'm passionate about the role non-formal education plays in building a better society," Ines says.
"I have witnessed it many times as a leader, through every girl I watched growing and exploring her capacities, talents and dreams."
She is excited about her opportunity to be an advocate for the movement, which she believes has a key role to play in bringing about a world-wide transformation of women's lives. Driven by her passion to change the world through advocacy, Ines recently authored a comprehensive advocacy toolkit for WAGGGS that any girl can use to start her own advocacy campaign.
"Guiding has been driving social change for a hundred years", she says. "As Girl Guides, what affects one of us, affects all of us. I am determined to not be silent until every girl on the planet is safe, empowered and able to reach her full potential."
Florence Sibomana, Rwanda
---
When Florence joined the Guides as a ten year old she found plenty of inspirational role-models around her.
She is now a final year medical student at the University of Rwanda and a district commissioner of the Rwanda Girl Guides Association.
She has been involved in anti-violence campaigns and has undertaken advocacy work for girls' and women's rights. She volunteers with the Rwanda Non-Communicable Disease Alliance, and on with a campaign to prevent malnutrition and non-communicable diseases.
A peer educator on women's health issues, in 2015 Florence co-ordinated World Aids Day events for the Medical Students' Association of Rwanda. She is also the vice co-ordinator of the Rwandan Village Community Promoter Team, working to raise living standards in rural areas.
Josmar Tello Maita, Venezuela
---
Josmar cites the Nobel Laureate Leymah Gbowee - who she met at WAGGGS Young World Women Forum in 2010 - as a major inspiration. Following her example she campaigns for gender equality and a holistic approach to women's health issues.
A key area of concern to her is the high rate of teen pregnancy in her home country, and she wants to help young women around the world "to develop their full potential as leaders and active citizens".
She is currently pursuing a master's degree in Labour Law, and speaks on behalf of the Guias Scouts de Venezuela about its campaigns and her experiences in the organisation.
Rachael Graham, United Kingdom
---
A committed campaigner for social justice, Rachael works for a UK charity, and is a Guide commissioner managing 35 Guide leaders in London.
She says her academic background in law and policy, coupled with experience working closely with parliamentarians in the UK and Ireland, has shown her that even the smallest policy changes can have a big impact on people's lives.
She calls the Guides "a global sisterhood", and says she is grateful for the role the organisation played in her upbringing - particularly the way it continually challenged her to try new things.
She believes that WAGGGS has a unique chance to help all girls and young women find their voice.
Roseline Souebele Mayinga, Republic of Congo
---
Roseline describes her current advocacy role as being "that voice coming out from the crowd, speaking up on behalf of women".
She is a team leader in Brazzaville for the Catholic Association of Scouts and Guides, and believes the Guiding movement has a key role to play in the empowerment of women in her home country and around the world.
She is the mother of two young girls, and she says she is bringing them up "to respect and live by the values embodied by the Guides".
Above all she wants them to grow up in a world free of violence and discrimination against women.
Candela González, Argentina
---
"It brought me on - I found my place in the world through Guiding."

Growing up is a small town in Argentina was difficult for Candela, and a change of school when she was six resulted in a loss of confidence, following which she forgot how to read and found social interaction very hard.

Her worried parents encouraged her to join her local Guide group, and gradually she developed the self-confidence and skills she would later need to succeed in her career. "Looking back I can see how much it helped me develop and change, and I've seen that since in many other girls."

She started working in the Department of Peacekeeping Operations in Argentina's Ministry of Defence when she was 19.

"I was very young, and it was an extremely male environment. I rose through the ranks, until I had a senior role. Sadly, many men had difficulty accepting or even understanding that." But she found that her experience as a Guide was really useful. "It gave me the tools and the experience to challenge those attitudes and to stand up for myself."

She's helped plan Argentina's response to natural disasters, and has led teams in the field - for example in Haiti, following the earthquake there.

"You see the best and the worst of people - including yourself", she says. "In Haiti people were nervous and distressed, and you had to come up with solutions. My experience as a Guide was really helpful with problem solving and working in a team under pressure, when it's a matter of life and death."

She believes that Guiding has a vital role in helping her country develop, and build better opportunities for women.

"Argentina is dealing with some difficult issues, and Guiding can really play an important part in this process," she says. "It's a safe place for girls which teaches them about their rights and about healthy relationships."

And she believes her new international advocacy role offers some exciting challenges. "The Guides has an important role breaking down social barriers, by telling the stories of girls, and empowering them - we need to educate communities. We work closely with governments, and with NGOs - we are trusted and respected and people listen to us."
Maria Terzi, Cyprus
---
Maria believes that advocacy can "ensure unheard voices are heard", and has the power to shift attitudes, alter behaviours and to influence decision makers.
She currently helps organise events that promote technological change and inspire children - particularly girls - to pursue degrees in computer science.
She has been a Guide since she was 6 years old, and is now president of the Girl Guides Youth Council in her home country.
Educated in her home country and in England, she holds a PhD in Computer Sciences, and completed a Software Engineering Internship at Google.
She works at the University of Cyprus as a research associate investigating how drone swarms could be used by emergency responders.
Helga Mutasingwa, Tanzania
---
A medical Doctor working in a community HIV/AIDS prevention programme, Helga was a youth volunteer with the Tanzanian Guides, and is now a training commissioner for the organisation.
She's been involved in campaigns to promote better nutrition for Tanzanian girls and young women, and is excited that her advocacy role now gives her the chance to represent them in an international setting.
"I have a global platform to speak out, and to be heard."
"It also allows me to learn from other Girl Guides from different countries about stragegies for making the world a safe place for girls and young women, one where they need not fear being harassed or belittled."
Christelle El Hayek, Lebanon

---
Christelle joined her school's Guide group when she was 10 years old, and has steadily taken on more responsibility within the organisation in Lebanon.
She currently leads a mixed group of 630 Guides and boy Scouts, and believes the organisation offers a unique blend of opportunities.
"We build the characters of girls bit by bit," she says, "we challenge ourselves, and create strong relationships that last a lifetime."
A chemical engineer by training, Christelle works for a Lebanese NGO which aims to promote transparency and accountability in the country's growing petrochemical industry.
She wants to use her time as an Advocacy Champion to promote equality, fairness and women's rights in the Middle East and around the world.
Chun Wei Fang, Taiwan
---
Chun Wei works with non profit organisations in Taiwan to promote sustainable international development, and in this capacity has led field teams in Sri Lanka and the Philippines.
Her background in civic education was both inspired and encouraged by her involvement with the Guiding movement.
She says that being a Guide has helped her understand and adapt to different ways of working, and to different cultures, in order to achieve common goals.
She wants to use her advocacy role to promote equal rights for women around the world, and to help enable all girls to achieve their full potential.
Sarah-Anna Awad, Austria
---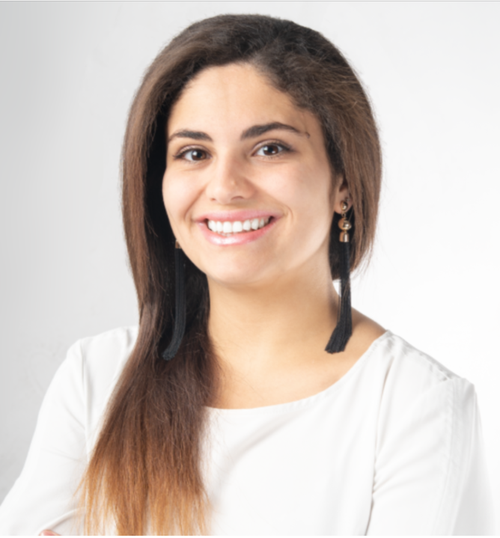 "We have a huge amount of expertise about that's really important to girls," Sarah says. "It starts with games when they are younger, but as they grow up we provide them with the right environment to evolve and develop."
An International Commissioner for WAGGGS, she has an academic background in foreign affairs and diplomacy.
She has been involved in initiatives to increase the number of women in senior posts within Austria's universities, and developing gender-neutral language for academics.
She believes the Guiding movement is uniquely placed to help make the lives of women better. "Girls and women are facing a really hard time being taken seriously, or - even worse - are being harmed. It´s a duty to speak up against this injustice."
Krysta Coyle, Canada
---
Krysta believes that while "gender-based discrimination looks different in every country, it still exists in every community, and affects the life of every girl and woman."
A cancer research scientist, she takes a particular interest in women's health issues, and gender in science policy and scientific research.
"The voices of girls and young women often go unheard at decision-making tables," she says.
"Advocacy and campaigning has the power to raise individual voices into a powerful roar, ensuring that the lived experiences of girls and young women are respected and valued."
She wants to use her time as an advocate to argue for "the systematic destruction of the social and cultural barriers that girls and women face in every corner of the world."
Lucia Ruvarashe Ndanga, Zimbabwe, Uganda
---
Guiding has been a central part of Lucia's life since she was six years old.
"I joined my local group in Zimbabwe just before they all went camping, and I was hooked", she says. "It helped me to grow, to develop. There is no better place for girls to find themselves."
She's been involved with the organisation both in her home country and in Uganda, where she's now studying law at the University of Kampala. She has recently organised national campaigns against child sexual exploitation, and for women's health rights.
"I want to challenge decision-makers to take action and promote gender equality. Being an advocacy champion offers a platform to be the voice of women in Zimbabwe at a global level."