Today was the first official day of the 2016 Juliette Low Seminar at Kusafiri World Centre, hosted by the Ghana Girl Guides Association. This seminar includes 68 participants representing 50 countries and we're all delighted to be here!
This morning had a very early start. We met at Joyce Dorothy Memorial Hall for a morning yoga session - an opportunity to get centred and focus on ourselves before the day began.
"This was my first yoga session and I found it to be very relaxing. I am curious now to learn more about yoga and to try it again." - Yara, Lebanon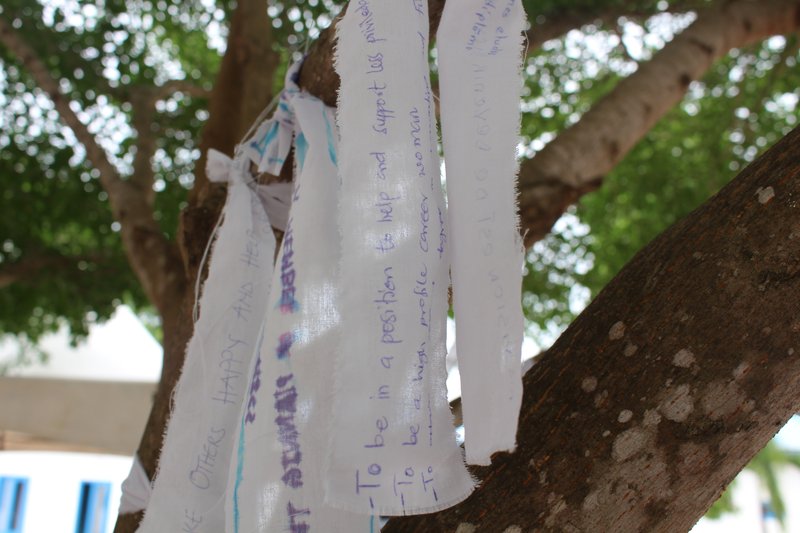 Our morning session gave us an opportunity to divide into patrol groups and to reflect on our personal journeys. Within our groups, we shared more about our values and our visions for the future. We wrote our visions on a special piece of cloth and tied them to a nearby tree, making a commitment to ourselves and our groups to bring our visions for our future to pass.


At the Juliette Low Seminar opening ceremony, we were welcomed with African drummers and a traditional dancer. We heard brief remarks from two distinguished Ghanaian guests, the Honourable Mrs Della Sowah, Deputy Minister of Gender, Children and Social Protection, and Her Ladyship Avril Lovelace-Johnson, Court of Appeal Judge and representative of the Chief Justice of Ghana Justice on behalf of Chief Justice. The Chief Commissioner of the Ghana Girl Guides shared an inspirational quote from J.K Rowling:
"We do not need magic to change the world. We carry all the power we need inside ourselves already: we have the power to imagine better."
Our afternoon session gave us an opportunity to consider ourselves as leaders and how we wanted to develop additional leadership qualities and skills. We learned about two different models for leadership, 'Lean In' and 'Athena' and discussed our preferences for each model. 
'Lean In' was developed by Sheryl Sandberg and empowers women to claim their voice in a personal and professional context. For example, she made the observation that who we choose to partner with in life can be one of the most important decisions.
The 'Athena' model proposes a feminine-driven model of leadership, focusing more on qualities which are naturally embodied in women. 

"In my opinion, I realized that the 'Lean In' model was the best choice for me because it would be easily accepted in my community." - Linda, Latvia
Later, we learned more about leadership in WAGGGS and we were reminded of a story we heard this morning during yoga. We learned about a caterpillar who found a tall tower that stood in the clouds, and approached the tower with great curiosity. 
After day one of the seminar, we are all like the caterpillar - we are anxious to learn more! 
On behalf of every participant, we say Akwaaba (welcome)!
Donate or become a Friend to Kusafiri
Donate or become a Friend to provide unique, international opportunities and training in the Africa Region.
Donate Now