Olave Baden-Powell Society Board of Directors
The Olave Baden-Powell Society Board of Directors are dedicated supporters of Girl Guiding and Girl Scouting, who volunteer their time and expertise to the Society
What does the Board of Directors do?
The Board helps direct and deliver the OB-PS strategy and ensure that the Society continues to grow and develop. They work throughout the year to help the Society achieve its objectives and are actively involved in recruiting new OB-PS supporters.
How does the Board work?
Members of the Board of Directors are nominated by supporters of OB-PS and serve for a period of four years. The Board has up to 15 members who meet twice a year to discuss the strategy and objectives for the Society.
Our Royal Patron
The Patron of the Society is HRH Princess Benedikte of Denmark, an active participant in Board matters who attends each meeting, providing valuable input and guidance.
Patron – HRH Princess Benedikte of Denmark
Her Royal Highness Princess Benedikte of Denmark has been the royal patron of OB-PS since its inception in 1984. She is the little sister of Queen Margrethe II of Denmark. For decades, members of the Danish Royal Family have committed themselves to the Girl Guides and Girl Scout movement nationally as well as internationally. Her Royal Highness is president of the Joint Committee of Girl Guides in Denmark and chairs its meetings. In 1993 the World Association of Girl Guides and Girl Scouts presented Princess Benedikte with their prestigious Silver Medal for outstanding service.

---
President/ Chair of the Board – Chief Marlies Allan (Nigeria)
Marlies joined OB-PS in January 2013 and has since been an active supporter of the Society. She became a Board Member in 2014, and is also a Princess Benedikte Awardee. Marlies' vision for the next five years is for OB-PS to become a little more modern and a little more business-minded in its approach to fundraising. She believes that it is also vital to raise the visibility and to make known the impact of WAGGGS at Global, Regional, and National levels. Most importantly, Marlies will continue to raise funds for WAGGGS and build and improve on the solid foundation already in place. She hopes this will inspire financial support from individuals from all over the world, adding more countries to those that already support OB-PS, encouraging "stepping up" and men to join also.
Marlies is a talented and dedicated lawyer, specialising in Intellectual Property Law. A managing partner in the law offices of Allan & Ogunkeye. Along with her busy law practice, Marlies has held several prominent voluntary and charitable positions including the presidency of the International Women's Society, and participating in the International Federation of Women Lawyers. Marlies held the position of Hon Consul General of Switzerland for 14 years.
---
Ekua Abudu, Vice-President (Nigeria)
Ekua is a huge supporter and advocate for Girl Guiding and Girl Scouting. She is a lawyer, educationist and a seasoned administrator with the ability to lead, manage and develop organisations to grow into high performance organisations.
She has a successful track record working in a pioneering environment, managing change and creating opportunities for growth. Ekua Co-Founded the Greenwood House school 24 years ago, leading it to become a household name and 1 of the top 5 Nursery/Primary schools in Lagos. She also founded VPDA (Vocational and Professional Development Academy) last year helping to bridge the skills gap in the economy. Ekua served as the 53rd President of IWS (International Women's Society) in 2010 –and is now a member of the Board of Trustees. She was also the President of AISEN (Association of International Schools of Nigeria) from 2012 to 2015. In May (2017), Mrs Ekua Abudu received an Honorary Doctorate from the State University of New York for Philosophy in Educational Management in recognition of her contribution to Education in Nigeria. She is also currently the Chairman of IDAN (Interior Designers Association of Nigeria). As you can tell she is a woman of many parts.
---
HRH Her Majesty Queen Azizah (Malaysia)
HRH Her Majesty Queen Azizah Iskandar has been an avid and passionate supporter of Girl Guiding in Malaysia, and the Asia Pacific Region. Her Majesty Queen Azizah truly believes that Girl Guiding and Girl Scouting is the very best cause in the world.
On a personal level. Her Majesty Queen Azizah combines her own desire for action with very active promotion of the cause – giving both her time and her support unstintingly to Girl Guiding/Girl Scouting. Her support as a patron of the Friends of Asia Pacific WAGGGS has been remarkable. Both her support and endorsement has seen the organisation grow, raising substantial funds to support the additional work within the region.
HRH Her Majesty Queen Azizah brings a combination of enthusiasm, networking, personal magnetism, and proven fund-raising skills. HRH Her Majesty Queen Azizah has also served as one of the Global Girls Fund Ambassadors for WAGGGS. She is also the area President for South East Asia and the Far East in Associated Country Women of the World, ACWW. HRH Her Majesty Queen Azizah has been Vice Chairman of the ACWW United Nations Committee attending UNESCO in Paris and CSW in New York.
---
Chris Burton (Canada)
Chris is a former Girl Guides of Canada Chief Commissioner and International Commissioner, recipient of the Queen's Golden and Diamond Jubilee medals and a Woman of Distinction in her city, among many other honours.
Chris is a net-worker with strong connections in the Western Hemisphere Region. Including Mexico, Central and South America and the Caribbean, around the world and across Canada. She clearly understands and is committed to the role of the OB-PS Board. Chris is a passionate communicator about Global Guiding and Girl Scouting and its impact on girls worldwide. Chris developed and managed 3 strategic plans for Girl Guides of Canada and has also been involved in strategic planning for a number of other voluntary organisations at a senior level. she is focused on the importance of planning and evaluation to ensure successful outcomes. A Life Member of Girl Guides of Canada, with experience from the local to national levels. Chris is enthusiastic about the importance of promoting Global Girl Guiding and Girl Scouting and OB-PS on a global scale.
---
Susan Campbell (Australia)
Susan is a passionate advocate for Girl Guiding and Girl Scouting and is active in a range of areas across the WAGGGS Organisation. A member of OB-PS since 2008, Susan has seen first-hand the positive and lasting impact the Society has had in supporting the WAGGGS Mission and most importantly making a difference in the lives of girls and young woman.
Susan has been a volunteer with Girl Guides Australia for more than 40 years, most recently supporting work in the areas of governance, international experience and human resource management. In 2017 she was awarded the Silver Kangaroo for her significant contribution to World Guiding. Susan is a strong supporter of the work of the five World Centres.
In her professional life, Susan is an educationalist. In the past fifteen years has held leadership and management roles in a number of educational institutions in Australia. She is a trained mentor and coach and has been invited by organisations in different parts of the world to build the capacity of individuals and teams. Susan specialises in change management, strategic planning and governance. She has chaired international conferences and committees applying her skills in consensus building, influencing and negotiating skills and clarity of thought. Susan is currently a partner in an international consultancy firm and travels extensively internationally.
---
Kyungwon Choi (South Korea)
Ms Kyungwon Choi Has a keen interest in participating and organising international events. She was a co-leader of Fund-raising Committee for the Seoul International Women's Film Festival from 2013 to 2015. Ms Kyungwon continues to actively take part in international events of Girl Scout of Korea but she also participates in various events in leadership positions in other NGO organisations.
Ms Kyungwon Choi since 1995, has volunteered at Culture & Community Council as well as Essak Volunteer Organisation as a member, auditor and Friendship Department Head. In Girl Scouting, she became a life-time member in 2000, and volunteered as an International Committee member in Seoul Council. She joined in OB-PS in 2009 and was a member of International Committee when we hosted the OB-PS annual event in Seoul. She is certainly willing to mobilise such networks to benefit of OB-PS with sincerity to care girls and youth of the world.
---
Marg Devlin, Vice-President (Australia)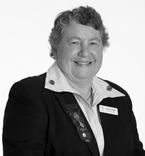 Marg joined OB-PS in 2009, being presented in 2010. She was elected to the Board in 2014 and Vice-President in 2018. Marg has extensive knowledge and experience of Girl Guiding/Girl Scouting, still being an active Member in Australia. She has travelled widely with her husband and family.
Marg is passionate about education, both formal and informal, of girls and women worldwide. Professionally Marg was a teacher and educational administrator and has been involved in education, in girls and women's sport and in Girl Guiding most of her life. She sees education, participation, enjoyment and broad opportunities as being of fundamental importance to all girls and women.
Marg has served on a number and a variety of Boards including those of Strathcona Baptist Girls' Grammar School, Women's Hockey Australia and on the Boards of both Girl Guides Australia and Victoria. She has been particularly involved in the development of Constitutions and Policies, Strategic Planning and Pastoral/Volunteer/Donor Care.
---
Dato Anne Eu, J.P. (Malaysia)
Based in Kuala Lumpur, Dato' Anne Eu is the Chairman of Eu Yan Sang Malayisa. She is responsible for growing the corporate and retail business in Malaysia, through developing local and international marketing strategies and business opportunities.
Prior to this, Dato' Anne Eu was an Investment Manager for Sime Darby Insurance Division, in charge of investment management.
Under her stewardship, Eu Yan Sang Malaysia has recorded steady growth and increased recognition. She is instrumental in driving business growth and broadening market appeal with organic and halal-certified TCM products. She was selected and voted by Amazons.com watch as The Top 100 Most Influential Women In Emerging Economies in 2017. She has remained a glimpse of sunshine and proven the ever popular statement of "Every Country needs 3 pillars of the strength of a woman – Fortitude, Steadfastness and Tenacity.
Dato' Anne Eu is an active philanthropist who is involved in many charity works. She founded Roti Malaysia in 2011 which delivers daily bread from 5 stars hotel to the various old folks homes and orphanages in Malaysia. She serves as the President for this charity organization. She is also the Chairman for the Registered Trustee of the Joseph William Yee Eu Foundation, an educational charity foundation which assists underprivileged children for their education needs. She initiated the Flagbearer Education Association to support the children of the missing and deceased crew members from MH 370 and MH 17 for their education needs too.
In addition, she is an active member of the Board of Trustees of the Tunku Azizah Fertility Foundation(TAFF). TAFF assists childless couples with medical costs for those who can't afford the high costs of fertility treatments. She also sits on the Board of Cancer Research Malaysia(CRM), as she believes in the research of creating bespoke cancer treatments according to the genetic profile of individual cancer patients.
She was recognised as one amongst Asia's HEROES OF PHILANTHROPY by US Forbes magazine in 2016. She earned praise for both her business acumen as well as for her charitable activities, having set up various Charity Foundations and spearheading several campaigns to help the less fortunate and the underprivileged.
---
Lena Mitts (Finland)
Lena is an outstanding supporter of Girl Guiding and Scouting. She is a board member of the Olave Baden-Powell Society since 2016 and of the Finnish Scout Foundation since 2012.
Lena is the founder of Mitts & Co Attorneys Ltd, which is a law firm located in the heart of Helsinki providing high quality legal services to a wide range of both domestic and foreign clients. Lena is a member of the Finnish Bar Association since 1993 and has held various high profile positions within the Bar Association for more than 15 years. She was a board member of the Finnish Bar 2010 – 2013 and is currently a member of its General Assembly and its Examination Board.
Lena is also a board member of the Foundation for Research in Effective History. Lena is married to Johan Ringbom, who is a supporter of OB-PS, and they have two daughters. Ida Ringbom is Licentiate of Medicine and Emma Ringbom is Master of Science, Technology. Ida is a young supporter of OB-PS.
---
Charmayne Platt (USA)
Charmayne is a formidable woman who is unwavering, committed, creative and dedicated, full of generosity at heart. Charmayne is committed to inspiring generosity and sustained financial support from individuals who have knowledge and responsibility for the advancement of girls and young women through the global Girl Guide and Girl Scout Movement.
Charmayne is also an entrepreneur who deals in property management in Canada and the USA as well as minding the family's investments in the restaurant business. Growing up she became a policewoman at 22 years old with the Royal Canadian Mounted Police, has 4 grown children, worked from home when the children were little as an office manager for two restaurants and then Charmayne along with her husband Bernard of 40 years, started investing in restaurants, buying their first restaurant at 30 years old. Charmayne continues to be hands on in her business every day.
In January of 2015 she organised a trip for 13 women to Sangam and then sightseeing in India for three weeks. Charmayne has been a volunteer with the Girl Guides of Canada and the Girl Scouts of the USA since 1985 so for over 30 years. Taking on roles of Leader in Charge, Service Unit Manager, Adult Development, Marketing, Events Coordinator, Council Trip Planner, Camp Trainer and so much more to her belt of expertise and experience.
---