Back to News
Members appoint five brand new Regional Committees for Africa, Arab, Asia Pacific, European and Western Hemisphere regions.
Leaders across the world have been coming together over the last few months to join one of five Regional Conferences. These events give members a chance to come together to celebrate world Guiding, discuss the future of the Movement and give valuable feedback to the WAGGGS team. The Conferences involve speakers, panels, activities and voting – check out some of the photos here!
Following weeks of voting, WAGGGS is delighted to share the five new Regional Committee teams, as nominated by members and peers.
Africa Region – Rwanda 2019
Chair: Larissa Esmiralda A.A. Byll Cataria
Vice-Chair: Jennifer Kabura Karina
Committee members:

Florentina Bernard Mganga
Juliana Adade Ofori-Kissi
Lucia Ndanga
Faniry Rakotoarivony
---
Arab Region - Tunisia 2019
Chair: Dr. Libya Ahmed Sbia
Vice-Chair: Huda Abu Qasim Othman
Committee members:

Sarah Hammoud
Dr Amal Abdul Latif Abdul Majid Al Awadi
Dr. Amal Abdul Rahman Sinan Al – Maslamani
Amani Saif Hamed Aljabri
---

Asia Pacific Region - Taiwan 2019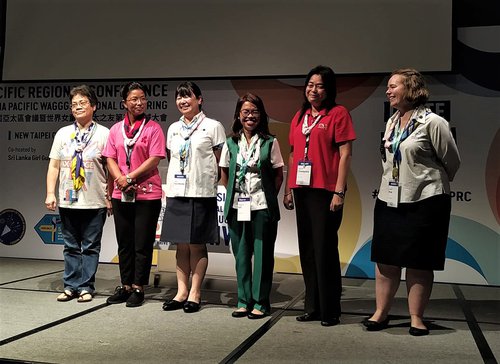 Chair: Sui Lan, Winnie She Tsui
Vice-Chair: Bronwyn Hughes
Committee members:

Aya Inaura
Chempaka Emalin Pahamin
Katheri Ann Charcos Puyo
Maiya Twayanabasu
---
Europe Region - Croatia 2019
Chair: Eline Marie Grøholt
Vice-Chair: Lilit Chilingaryan
Committee members:

Petra Stipanič
Paula Neher
Agnes Kauer
Stephanie Darmanin
---

Western Hemisphere Region – Grenada 2019
Chair: Cindy-Ann Patricia Alexander
Vice-Chair: Maria Emilia Cadario
Committee members:

Patricia Marroquin
Saudia Edghill
Paola Andrea Nieto Carjaval
Stefanie Argus
Congratulations to all the teams!