What are the Sustainable Development Goals?
The Global Goals for Sustainable Development, agreed by world leaders at the UN General Assembly in September 2015, represent an historic agreement to tackle the huge challenges facing our world today including poverty, health, climate change, and various forms of inequality. These new Sustainable Development Goals (SDGs) succeed and expand on the Millennium Development Goals (MDGs) and constitute the global plan of action for People, Planet and Prosperity.
Unlock Leadership for Change - our action on Sustainable Development Goals
In the same way that the United Nations does not want to leave "no one behind", WAGGGS wants to contribute to make SDGs a reality to ensure that "All girls are valued and take action to change the world". The Sustainable Development goals constitute a call for action by all countries and they provide a framework of action. TheGoals.org by ISYMP and WAGGGS have joined forces in a project called "Unlock Leadership for Change" in which youth leaders around the world are trained to use TheGoals.org and thus educate their peers in their communities on the SDGs. This project funded by the Swedish Postcode Foundation.
During the six days spent in Malmo, both young leaders and national board/staff members got together to create an SDG related plan for their National Association. During the trainings, the participants learnt about the UN Sustainable Development Goals framework and Sustainable Development to later on learn how to plan, draft and implement projects related to the SDGS and use TheGoals.org as an educational tool. The participants gained leadership and community engagement competences and discussed about WAGGGs leadership models.
What is WAGGGS' position on the SDGs?
Helping to make SDGs a reality is in line with WAGGGS' Vision to ensure "All girls are valued and take action to change the world".
Despite progress towards gender equality, girls and women continue to be disproportionately affected by poverty, injustice, violence, disease, discrimination and a lack of access to resources. By working to achieve the SDGs, we want to put the girls, who are often the last on the agenda, to be the first.
WAGGGS welcomes the potential that the Goals represent for trans-formative change in the lives of girls and young women, particularly that the SDGs:
recognise that gender equality is critical to the progress of all Goals.
include a stand-alone goal on gender equality that includes targets on the elimination of violence against women.
recognise the importance of education and of life-long learning opportunities.
are truly global and relate to every country in the world
WAGGGS' global SDGs work
WAGGGS has put the SDGs at the heart of our work – this includes our advocacy work, our programmes, and our opportunities for our members.
Every one of the 17 goals is equally important, and each must be addressed to help create a better world. However, we encourage our Member Organisations to work on the Global Goals most appropriate to their national context and more importantly that are most relevant for their members.
We know our organisation has particular areas of expertise and priority. We are the girl experts, the leadership development experts and the non-formal education experts. Our research and work focuses on girls' rights and opportunities.
To reflect this, WAGGGS has developed its own framework of themes that we will, at a global level, focus our energy, programming and advocacy on to create the world we want to see for girls.
These areas are - Every girl:
Is healthy and thriving
Is safe and respected
Can develop skills and have opportunities
Can enjoy and inherit a liveable planet
Can raise her voice and be heard
Our focus until 2030 is to support your work towards meeting the SDGs. To act as brokers, facilitators, and curators to facilitate sharing and partnerships around the SDGs rather than creating a standalone programme.
Supporting our Member Organisations
Girls are experts on their needs and lived experience and their contribution is vital to the success of the SDGs. WAGGGS' Member Organisations can give girls need the tools and the space to do so.
Member Organisations are welcome to follow WAGGGS' SDG framework in their own planning, however, WAGGGS recommends listening to young members, giving them the opportunity to learn about and take action on issues in their communities and lives that they are affected by and are passionate about.
The key ways WAGGGS encourages and supports MOs' work on the SDGs:
Education on the SDGs: thegoals.org is an online platform connecting Girl Guides and Girl Scouts all over the world to tackle the SDGs in a fun, interactive way. Available on any internet-enabled device and aimed at young people who want to learn about the SDGs and take action.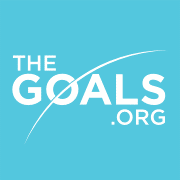 Programmes, campaign tools and opportunities which link to one or more of WAGGGS' priority Goals (see our framework, above).
Sharing space: through our website, training and events, we give MOs the opportunity to share their own ideas for programmes, campaigns and tools with others across the world.
Data collection to inform our programmes and bring the data on SDGs to global and national forums via U-Report.
Partners: we encourage MOs to form their own national partnerships towards the SDGs and provide partnership opportunities via global relationships, including our partnerships with UPS, Dove Self Esteem Project, FKNorway, UN Women, Nutrition International and other partners.
Millenium Development Goals (2000 - 2015)
In 2008 the World Association of Girl Guides and Girl Scouts (WAGGGS) launched a programme centred on the United Nations (UN) Millennium Development Goals (MDGs).
The "together we can change our world" Global Action Theme (GAT) raises awareness of the MDGs throughout our international Movement and supports our Member Organisations' projects on development issues.
The theme calls on members of all ages to make a personal commitment to change the world around them and help to achieve the MDGs. Since 2008, WAGGGS, its Member Organisations and girls and young women globally worked to help achieve the MDGs, through innovative community action projects, non-formal education programmes and advocacy work. The programme delivers education about the MDGs, and enables and empowers girls and young women to speak out and change the world around them.
One of the key educational resources produced to support the GAT is the GAT Badge Curriculum for girls and young women aged 5 to 24 years of age. Developed with seed funding from the UN Millennium Campaign, it encompasses an activity pack of over 100 exciting and informative activities.
WAGGGS has also released non-formal education activity packs on each of the eight MDGs, you can find them here.
Over the past eight years, GAT programming has been implemented in at least 100 countries. Since its launch in English, French and Spanish, the Badge Curriculum has also been translated into at least 16 other languages including Arabic, Russian, Greek, Italian, Japanese, Danish and Chinese.