WANT TO TAKE PART IN #JLS2019?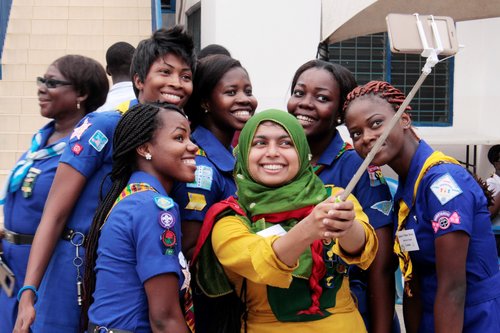 We still have spaces available at the JLS for participants from specific countries.
If you are a member of WAGGGS, aged 20 - 30 and from one of the Member Organisations listed below, you can apply until 9 May 2019.
Before you apply, download our list to find out if your Association is eligible for our extended JLS registration.
If you are shortlisted, we will be in contact with your Member Organisation to endorse your application.
If you have any questions about the JLS, contact us today:
leadingforherworld@wagggs.org.
Keep reading to find out all about the JLS.
WANT TO SUPPORT THE JLS?
You can now sponsor a leader to take part in #JLS2019! By sponsoring a leader to attend the JLS, you are making it possible for more young women to feel confident, see themselves as leaders, and change their communities by making a real difference in 100 more girls' lives.
All donations will go 100% to supporting young women to take part in the Lead Out Loud project. £600 will cover the Juliette Low Seminar event fee for one young woman. A further £600 will help her with travel costs and post-event mentoring. If you donate over £100, you will receive a letter or video from the young woman you are supporting and a digital copy of the JLS impact report one year after the seminar. If you donate over £600 you will also receive an invitation to participate virtually in a JLS session.
Juliette Low Seminar
The Juliette Low Seminar (JLS) was traditionally held twice, every three years. Since 1932 we have been providing this inter-cultural, inspirational and international experience. It builds friendships across borders and helps young women step outside of their comfort zones. This event is all about empowering the next generation of leaders with the leadership practices and mindsets they need to succeed.
#JLS2019 - The new 'HUB' model
This year we are trying a new approach that will bring the JLS to more people then ever before. We intend to offer this opportunity to up to 1000 active members of Guiding and Scouting aged 20 to 30. We will be hosting multiple JLS "hubs" in every Region at the same time. These will be hosted by the five World Centres, as well as some Member Organisations. Each JLS event will be an international, cross-cultural leadership development experience. We will be taking the very best parts of JLS and making it bigger.
If you have any questions you can reach the team at leadingforherworld@wagggs.org.
Our upcoming JLS event will be 14 to 20 November 2019. It will run as parallel events in multiple locations and languages for the first time.
These locations are open to all WAGGGS members, we will also offer co-educational locations for the first time. Visit our JLS event site to learn more.
AUSTRALIA hosted by Girl Guides Australia (ASIA PACIFIC REGION)
CHILE hosted by Asociación de Guías y Scouts de Chile (WESTERN HEMISPHERE REGION)
ENGLAND hosted by Pax Lodge, World Centre (EUROPE REGION)
FRANCE hosted by Fédération du Scoutisme Français (EUROPE REGION)
INDIA hosted by Sangam, World Centre (ASIA PACIFIC REGION)
IRELAND hosted by Irish Girl Guides (EUROPE REGION)
LEBANON hosted by Association des Guides Du Liban (ARAB REGION)
MADAGASCAR hosted by Skotisma Zazavavy Eto Madagasikara (AFRICA REGION)
MALDIVES hosted by Maldives Girl Guides Association (ASIA PACIFIC REGION)
MEXICO hosted by Our Cabaña, World Centre (WESTERN HEMISPHERE REGION)
OMAN hosted by Oman Scouts and Guides (ARAB REGION)
NIGERIA hosted by The Nigerian Girl Guides Association (AFRICA REGION)
PERU hosted by Asociación Nacional de Guías Scouts del Perú (WESTERN HEMISPHERE REGION)
POLAND hosted by Związek Harcerstwa Polskiego - ZHP (EUROPE REGION)
SWITZERLAND hosted by Our Chalet, World Centre
TAIWAN hosted by Girl Scouts of Taiwan (ASIA PACIFIC REGION)
TANZANIA hosted by Kusafiri, World Centre in partnership with Kenya Girl Guides and The Tanzania Girl Guides Association (AFRICA REGION)
THAILAND hosted by Girl Guides (Girl Scouts) Association of Thailand (ASIA PACIFIC REGION)
UNITED KINGDOM hosted by Girlguiding (EUROPE REGION)
UNITED STATES hosted by Girl Scouts USA (WESTERN HEMISPHERE REGION)
Do you have a question? Visit our Frequently Asked Questions list, with everything you could want to know about JLS 2019. Click here to download: Juliette Low Seminar 2019 FAQs.